If you are on the look-out for an effective home wireless security camera, then this An Tong surveillance wireless IP camera with inbuilt microphones is one of the smartest and coolest options to go for. This state of the art home security system is easy to operate, gives you a clear vision at night time and is also very cost effective.
The main features of the device:
The manufacturers of the unit had only one vision which gives its users a device which is easy to operate and at the same time serves their needs well. This surveillance wireless IP smart camera with inbuilt microphones is easily compatible with your Apple smartphones as well as your Android device. The camera quality gives you footage in superb 720p HD resolutions.
These are just the start as this system comprises of a host of other splendid features.
The first and foremost thing about this device is that you do not need to fiddle with any IP programming or for that matter any network settings.
There is also not such need of installing anything. To use the camera, you will have to scan a QR code to check out the live footage in high definition.
The device makes way for splendid video streaming. You will be able to check out all the indoor images which have the ability of illuminating crystal clear pictures even in extremely bright spots or for that matter in low light regions.
Owing to its state of the art infrared night vision as well as the IR auto switch you will be able to get a clear vision at night time.
The camera is tailor made for monitoring indoor business, factory, warehouse, day care as well as personal homes. Without any issues, you will be able to watch all the rooms, your pets, your little one your elder family members without having to get up.
The device comprises of a remote pan which tilts as well as zooms without any issues.
The camera can take in about 64 GB memory card and can record as well as playback video recordings without hassle.
The dimension of this security camera is 5.2x 7.8x 8.9 inches
The weight is around 1.25 pounds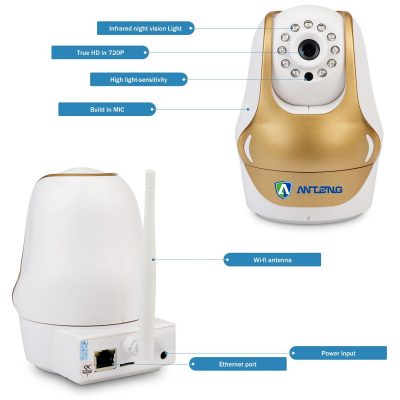 The advantages of this security camera:
Let's check out some of its beneficial points:
The camera is extremely reliable
They are also attractive
This is very easy to set up. The app which you will be accessing is extremely simple
The IP security camera is highly reliable
The price of the unit is also cost-effective
On purchase, you get a warranty.
Disadvantages:
Some stated that the antennae was missing and did not connect at all
Some have also stated that the camera quality was not as good as it was mentioned.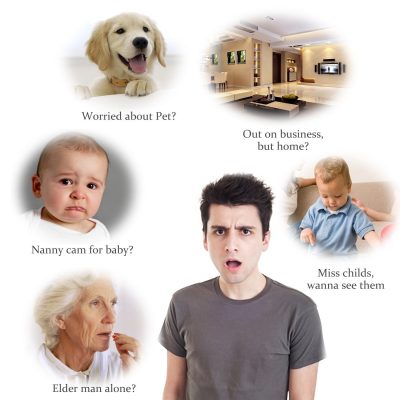 Final Say:
The Home Security AnTong 720pHD surveillance wireless IP security camera is a good buy. The HD recordings, as well as the plug, play night vision feature and with that its responsiveness to some of the popular mobile handsets makes it something to try out.
[x_button shape="rounded" size="regular" float="none" href="http://amzn.to/29Vd32s" target="blank" info="none" info_place="top" info_trigger="hover"]Get Your AnTong Today[/x_button]