There are fewer things better at certain times than a soft doughy hot pretzel. There are also times when potato or tortilla chips do not seem desirable that the trusty hard pretzel shines like that lost treasure which you have been craving but couldn't quite figure out what it was that you wanted to eat.
Its history is obscure, but most sources secure its origins in Medieval Europe and most likely invented and if not at least perfected by German Monks. It's name comes from the German which is "Brezel." Its shape is said to represent hands folded in a prayerful manner, and the three holes represent the Trinity. It is difficult to say if this claim was the originators' intentions or a post-production interpretation. It came to North America most likely through German immigrants in the eighteenth century. These became known as the Pennsylvania Dutch where you will find two major pretzel companies originated in Pennsylvania- Snyder's of Hanover and Utz. Even Rold Gold was founded in Pennsylvania and originally named The American Cone and Pretzel Company. You can find pretzel shops in malls also. Auntie Annes and Wetzel's Pretzels are two that stand out as popular.
Here are a couple of recipes for you to make hot soft pretzels at home-
[caption id="attachment_10646" align="alignnone" width="760"]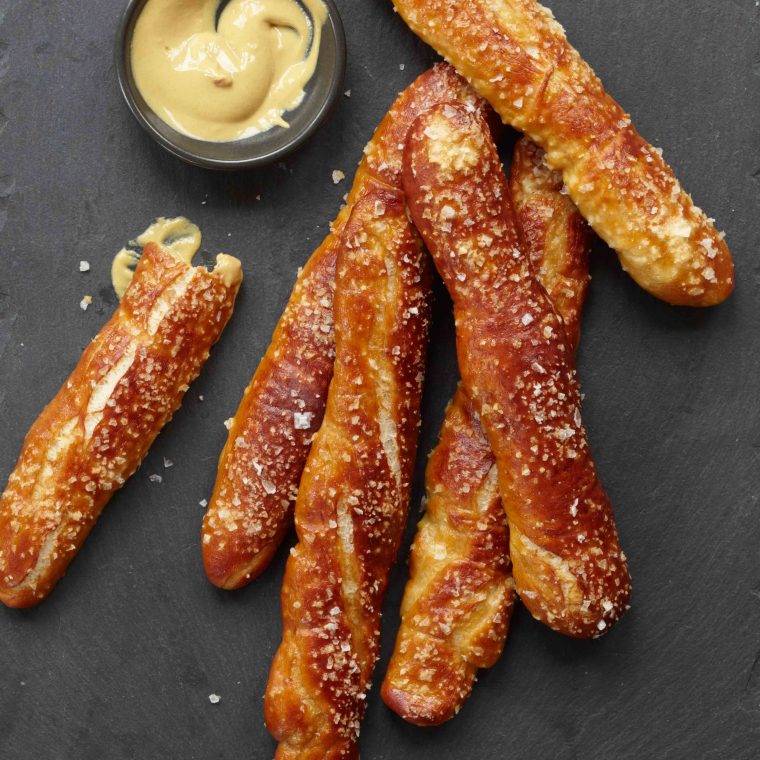 foodandwine.com[/caption]
German Soft Pretzels Sticks via foodandwine.com
In a large bowl, stir the brown sugar into 2 cups of warm water until dissolved. Sprinkle the yeast over the water and let stand until foamy, about 5 minutes. Stir in the vegetable oil and 3 cups of the flour. Knead in the remaining 2 3/4 cups of flour; the dough will be slightly sticky.
Transfer the dough to a floured work surface and knead until silky, about 3 minutes; if the dough is very sticky, knead in up to 1/4 cup more flour. Transfer the dough to an large, oiled bowl, cover with plastic wrap and let stand at room temperature until doubled in bulk, about 45 minutes.
Preheat the oven to 450°. Line 3 large cookie sheets with parchment paper and butter the paper. Punch down the dough and turn it out onto a floured work surface. Knead the dough lightly, flatten it out and cut it into 24 pieces. Roll each piece into a 9-inch stick about 1/2 inch thick. Transfer the sticks to the prepared cookie sheets, leaving at least 2 inches between them. Let stand uncovered until puffed, about 25 minutes.
In a large, deep skillet, stir the baking soda into 2 quarts of water and bring to a simmer over high heat. Reduce the heat to moderate. Using 2 slotted spoons, carefully transfer 6 pretzel sticks at a time to the simmering water 30 seconds, turning once; add about 1 cup of hot water after before cooking the second batch of pretzels. Transfer the pretzel sticks to paper towels to drain, then return them to the cookie sheets, spacing them evenly.
Brush the pretzel sticks with the egg wash and sprinkle with salt. Bake until richly browned, about 10 minutes. Serve warm or at room temperature, with mustard.
Soft Pretzels via Food Network (Alton Brown)
1 1/2 cups warm (110 to 115 degrees F) water 1 tablespoon sugar 2 teaspoons kosher salt 1 package active dry yeast 22 ounces all-purpose flour, approximately 4 1/2 cups 2 ounces unsalted butter, melted Vegetable oil, for pan 10 cups water 2/3 cup baking soda 1 large egg yolk beaten with 1 tablespoon water Pretzel salt
Combine the water, sugar and kosher salt in the bowl of a stand mixer and sprinkle the yeast on top. Allow to sit for 5 minutes or until the mixture begins to foam. Add the flour and butter and, using the dough hook attachment, mix on low speed until well combined. Change to medium speed and knead until the dough is smooth and pulls away from the side of the bowl, approximately 4 to 5 minutes.
Remove the dough from the bowl, clean the bowl and then oil it well with vegetable oil. Return the dough to the bowl, cover with plastic wrap and sit in a warm place for approximately 50 to 55 minutes or until the dough has doubled in size.
Preheat the oven to 450 degrees F. Line 2 half-sheet pans with parchment paper and lightly brush with the vegetable oil. Set aside.
Bring the 10 cups of water and the baking soda to a rolling boil in an 8-quart saucepan or roasting pan.
In the meantime, turn the dough out onto a slightly oiled work surface and divide into 8 equal pieces. Roll out each piece of dough into a 24-inch rope. Make a U-shape with the rope, holding the ends of the rope, cross them over each other and press onto the bottom of the U in order to form the shape of a pretzel. Place onto the parchment-lined half sheet pan.
Place the pretzels into the boiling water, 1 by 1, for 30 seconds. Remove them from the water using a large flat spatula. Return to the half sheet pan, brush the top of each pretzel with the beaten egg yolk and water mixture and sprinkle with the pretzel salt. Bake until dark golden brown in color, approximately 12 to 14 minutes. Transfer to a cooling rack for at least 5 minutes before serving.