If your family is like a majority of families out there, your fridge is filled with left overs.  A lot of people do not want to eat the same dinner two days in a row, but do so to get rid of left overs.  What if there was a way to make a completely new meal just using left overs?  Here are two recipes that will not only impress your family and guests, but will also empty out your fridge.
Fried Rice
[caption id="attachment_8638" align="aligncenter" width="846"]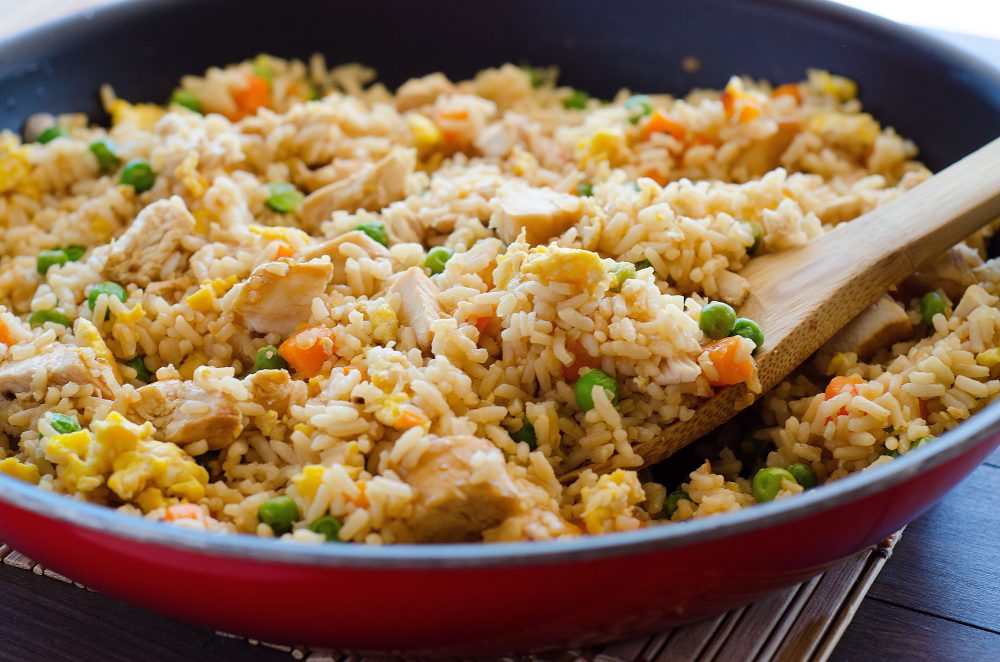 life-in-the-lofthouse.com[/caption]
Fried rice is one of the easiest dishes to make!  It is supposed to be a mixture of a bunch of different ingredients.  If you have left over chicken or rice, you have almost everything you need to make this dish!
What you need:
Left over chicken or Bacon
 Rice
Soy sauce
Olive Oil
1 Onion
1 egg
Left over Corn
Left over Peas
Left over Carrots
Garlic powder
Salt
Pepper
Prep:
Cut left over chicken or bacon into small cubes or strips
If you do not have left over rice, cook one serving of rice
Chop a quarter of an onion into the smallest possible pieces
Chop left over carrots into small pieces
Beat one egg in a bowl
Cooking Instructions:
Heat up a large skillet to medium while adding Olive Oil
Add the quarter of an onion that you chopped to the skillet
Wait until the onions are browned before adding in chicken or bacon
When the chicken or bacon is added, sprinkle a lite amount of salt, pepper, soy sauce, and garlic powder
Add in corn, peas, and carrots
When chicken or bacon looks like it is warmed up, add in your beaten egg
Move around and mix egg with the onions, peas, carrots, and chicken (egg should have a scrambled egg texture)
Once your onions, chicken, egg, peas, carrots, and corn are mixed, add rice into the skillet
Add a generous amount of olive oil and soy sauce to rice
Mix all ingredients till it looks evenly mixed
Add more salt, pepper, and garlic
Taste rice and see if it needs more soy sauce or salt and pepper
Once rice is hot and brown from the soy sauce, it is ready to be served!
Shrimp Pasta
[caption id="attachment_8639" align="aligncenter" width="846"]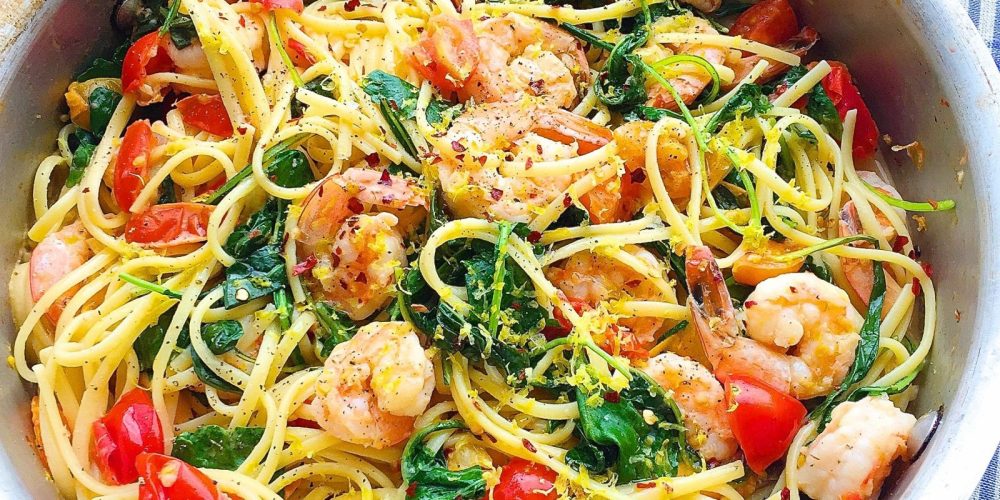 delish.com[/caption]
This dish is easy and will please any seafood lover.
What you need:
Left over shrimp
2 TBSP of Butter
Olive Oil
Left over pasta (with no sauce)
Basil leaves
Cherry tomatoes
1 Clove of Garlic
Salt
Pepper
Parmesan Cheese
Prep:
Chop up Garlic into the smallest possible pieces
Cut Cherry Tomatoes either in half or into fourths
Warm up Pasta lightly in microwave
Cooking instructions:
Heat up skillet on stove to a medium temperature
Melt butter in skillet
Add garlic to skillet
Once garlic is browned, add left over shrimp to skillet
Once shrimp is browned, add cherry tomatoes and basil
Add Olive Oil if needed
Once ingredients are all mixed and heated, add in pasta
Lightly add more Olive Oil
Season with Salt and pepper
Once everything is heated and mixed well, add onto plate and sprinkle parmesan cheese!
Bon appetit!
Nobody likes throwing away and wasting food.  Now with these recipes, nothing will go to waste!