What makes someone rich? Can a rich person truly be said to be rich if they are alone? But what if you were part of a small group of people that were the richest in the world? Would it matter if you were alone? What if your group was worth one trillion dollars?  One Trillion Dollars! That is how much the world's twenty-one richest people are worth. Twenty-one people are worth One Trillion Dollars! Think about this number.
This means if you were walking through one neighborhood you could count the houses of twenty-one people in less than two minutes. In order to be considered a small town, it would have to contain one thousand people. That means that the equivalent of 2.1 percent of one small town possesses one trillion dollars! The GDP of Mexico is relatively the same as what these people possess. Mexico is ranked number fifteen of all of the countries in the world for the highest GDP.
At roughly 7.5 billion people in the world, this means that they are .0000000028 of the global population. That is one out of approximately three hundred fifty-seven million human beings. Did you know that if you spent one million dollars a day since Jesus of Nazareth was born until the time you are reading this article that you would not have spent one trillion dollars! This will not occur until far after the year 2500 A.D.
Ok, so now that we have experienced the shock of how much one trillion dollars is, then let us take a look at these richest twenty-one people. Here is the ranking in order of financial worth according to Bloomberg-
[caption id="attachment_9325" align="alignnone" width="150"]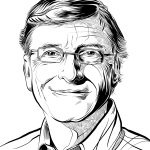 via Dribble[/caption]
Bill Gates Microsoft- Attended Harvard University
Warren Buffet Berkshire Hathaway- Master's Degree Columbia University
Jeff Bezos Amazon.com- B.A. Princeton University
Amancio Ortega Inditex- Spain
Mark Zuckerberg Facebook- Attended Harvard University
Carlos Slim America Movil- Mexico- B.A. Universidad Nacional Autonoma de Mexico
Charles Koch Koch Industries- Master's Degree MIT
David Koch Koch Industries- Master's Degree MIT
Larry Ellison Oracle- Attended University of Illinois at Urbana-Champaign
Larry Page Alphabet (Google)- Master's Degree Stanford University
Ingvar Kamprad IKEA- Sweden
Sergey Brin Alphabet (Google)- Master's Degree Stanford University
Barnard Arnault Moet Hennessy Louie Vuitton- France- B.A. Ecole Polytechnique
Liliane Bettencourt L'Oreal- France
Jack Ma Alibaba Group- China- B.A. Hangzhou Teachers University
Rob Walton Walmart- B.A. University of Arkansas at Little Rock
Jim Walton Walmart- B.A. University of Arkansas
Alice Walton Walmart- B.A. Trinity University
John Mars Mars Inc.- B.A. Yale University
Jacqueline Mars Mars Inc.- B.A. Bryn Mawr College
Wang Jianlin Dalian Wanda Group- China