Sure it may suffice when needing to shine light on the keys that fell underneath the seat of your car, but your iPhone's flashlight isn't what you want to rely on in times of emergency. Having an emergency preparedness kit ready in your home at all times is extremely important, and no kit is complete without a flashlight.
Of course, not all flashlights are created equal, so investing in a quality one will benefit you in the long run. Here are 5 reasons we think you should invest in 1TAC's TC1200 military-grade flashlight:
1. It's durable.
Constructed with aircraft grade aluminum, this isn't your average flashlight. It's protected against water, impact, drops, corrosion, and scratches.
2. It's powerful.
You can expect a military-grade flashlight to be much more powerful than a standard one. A general purpose flashlight, for instance, may generate approximately 30 lumens of light, while the TC1200 model generates 1200. See how it compares to a standard flashlight in the video below
https://www.youtube.com/watch?v=5VnkUu0wXC8
3. It doubles as a self-defense device.
While it's normally used to illuminate pathways, the flashlight's lightly crenellated bezel as well as its blinding white light can also be used as a self-defense tool if need be.
4. It's versatile.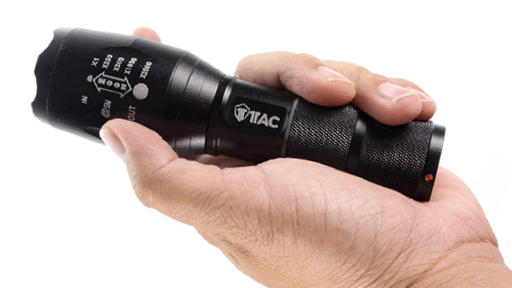 The TC1200 features 5 output modes, with varying levels of illumination. Its lower settings are perfect for short-distance and indoor use, while higher settings help brighten outdoor landscapes. It's also just the right size for keeping in your car's glove compartment or taking with you on the go.
5. It's cost-effective.
Previously priced at $224, the TC1200 Tactical Flashlight from 1Tac is currently listed as $56. While it may seem like a steep price, the product delivers 100,000 hours of lamp life, so depending on how often you're going to be using your flashlight, chances are, you won't be needing a new one for a very long time.
Stop putting off completing your emergency preparedness kit and start investing in your safety.