Do you want the fun of watching a movie and the romance of a candle lit dinner all in one?  The answer for you and your special someone is Alamo Drafthouse.  Alamo Drafthouse is a perfect fancy date option for couples that want something different from the typical sit-down dinner date option.  Do not be fooled, this is not your typical movie theater.  While watching your film, you can enjoy beer, wine, gourmet meals, and a guaranteed no distraction movie experience.  Alamo Drafthouse has become a nationwide sensation with over 25 theaters.  Some of those locations include LA, Brooklyn, San Francisco, Austin, San Antonio, and Kansas City.  Here are reasons why you should make Alamo Drafthouse your next date experience(and how it works).
How It Works
[caption id="attachment_8784" align="aligncenter" width="1000"]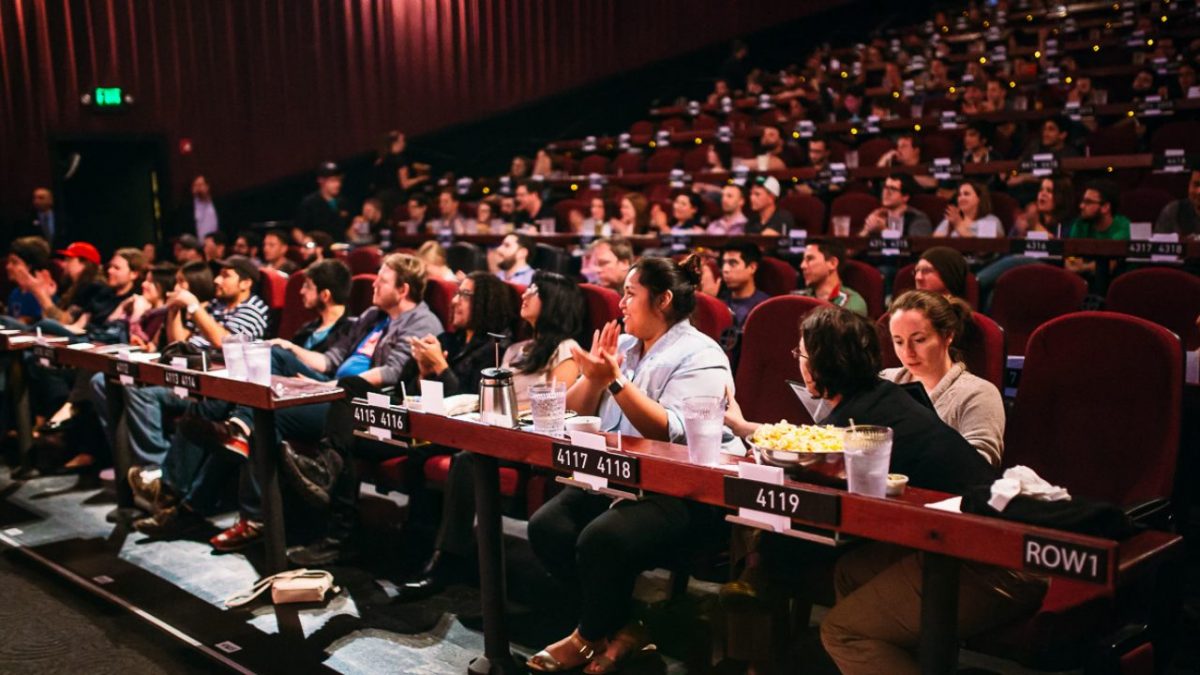 drafthouse.com[/caption]
Typically, people buy their movie tickets online for Alamo Drafthouse.  Whether you buy it online or not, you get to pick where you and your date will be seated in the theater.  The theater advises that you should get to the theater about 30 minutes early.  The main benefit of getting to your theater early is having plenty of light to look over your menus.  The Drafthouse has equipped lounge theater chairs with tables to eat on and spacious room in between rows.  Once you are in the theater and have looked over the menu, you can write down your order on little pieces of paper provided.  When you place your paper upright in it's holder, a waiter will take it and place your order.  One of the great things about Alamo Drafthouse is that you can order more things throughout the movie without leaving your seat!  Once your order is placed, your movie will begin.  As your movie is playing, the so-called "ninja-waiters" deliver your drinks and food to you without any distraction.  About 30 minutes before the end of the movie, your check will be on your table and your waiter will collect your method of payment.  When the lights come up, you and your date can either go home or have some more fun at the bar outside your theater.
Reasons Why It's So Great
The Ambiance
[caption id="attachment_8778" align="aligncenter" width="1000"]

drafthouse.com[/caption]
Alamo Drafthouse has earned the title of the "1# movie theater in America" from Entertainment Weekly, Wired.com, and Fandango because of it's impeccable quality.  You will know the Drafthouse is different from any other theater the moment you walk through the front doors.  From the bar to the elegant hallways, the ambiance and decorations are chic, upscale, and modern.
The Food
[caption id="attachment_8774" align="aligncenter" width="1000"]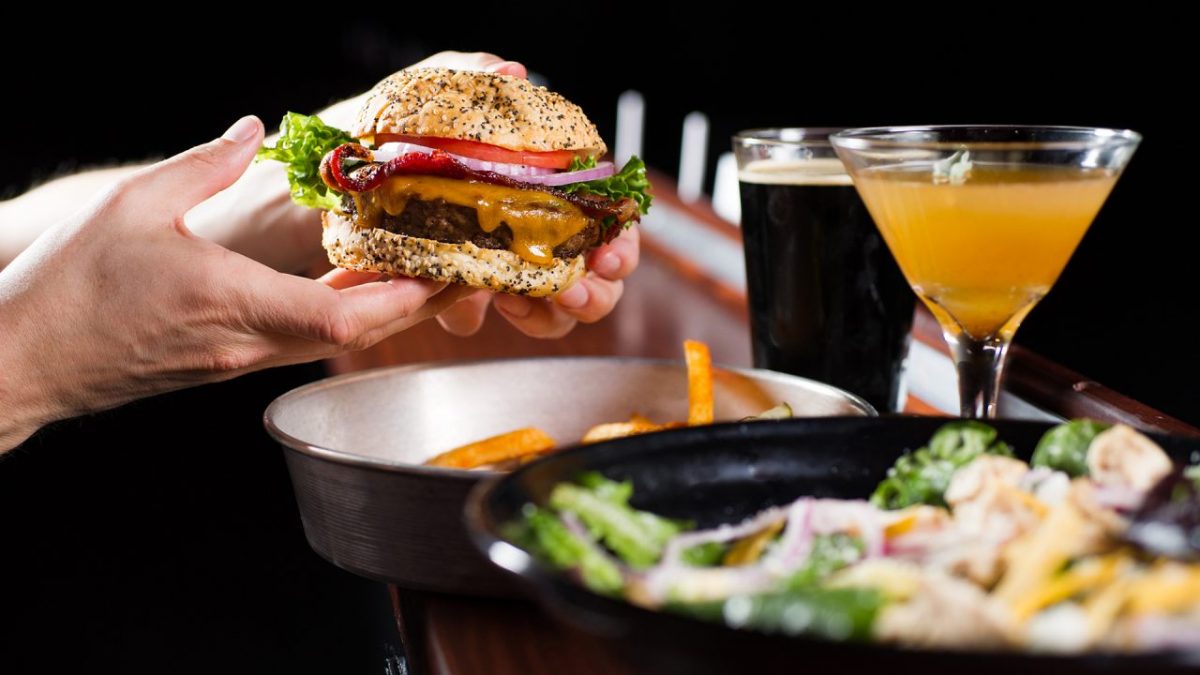 drafthouse.com[/caption]
This is not your typical pretzel and popcorn movie theater food.  Alamo Drafthouse has a gourmet menu that will please all ages and pallets.  The menu includes food specials that are updated every three months.  Alamo's website also states, "Cold beer and fine wines are on the menu at every location, with an emphasis on highlighting local breweries whenever possible. Select Alamo locations feature a full bar with liquor where we theme specialty cocktails around the movies of the day."
The No Distraction Rule
[caption id="attachment_8779" align="aligncenter" width="1000"]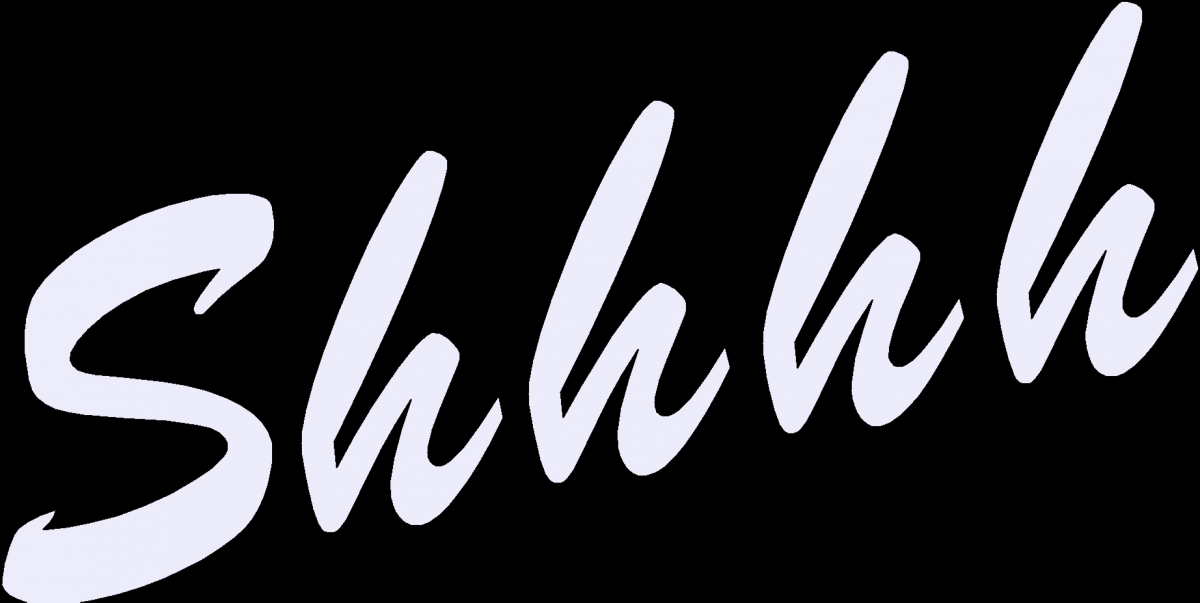 pinterest.com[/caption]
There is nothing more annoying than someone talking and looking at their phone throughout a whole movie.  Fortunately, that will never happen in a Alamo Drafthouse theater.  The Drafthouse has a strict no talking/no texting rule.  The staff and management does not have a problem with kicking anyone out that breaks these rules.
The Interactive Experiences
[caption id="attachment_8777" align="aligncenter" width="1000"]

lostinaustin.org[/caption]
Alamo Drafthouse not only shows movies, but also has movie events!  They have events such as:
Quote-along events - This event takes a break from the "no talking" policy.  You are encouraged to shout out your favorite lines to your favorite movie at this movie experience.
Girlie Night - Every month, the Drafthouse plays a chick flick classic.
Next time you cannot choose between a movie and a candle lit dinner, remember that Alamo Drafthouse has everything you need!  Alamo Drafthouse is spreading all over the country!  Check out the website and see where a theater is near you!