In a world of rapid change, human beings are finding what they perceive as normal to be a fleeting system. If this is true than is the new normal destined for any length of endurance or will the new normal quickly become the old and archaic? One significant change that is occurring in our society is the decline of the restaurant chain and the success of the meal kit. While it will be a while before civilization observes the disappearance of the brick and mortar restaurant, many (especially Millennials) are deciding to stay in and eat. But what does this leave us as options? The Food Delivery service, a home cooked meal, and the Meal Kit. Of course, one could argue that the restaurant as we know it today was a creation of the Twentieth Century and itself a novel establishment. So is this a positive shift in our culture?
Maybe, but the question I would like to investigate is what is the best option for staying in and eating at home? While Food Delivery services are excellent, they can be expensive. Take for instance the Pizza Delivery fee…this three to five dollar charge goes largely to the owners of the Pizza joint and only 25-33% goes to the driver. This charge means that the pizza establishment has found a way to tax you for nothing. Delivery used to be a free service, but they decided that they can charge you more for no reason whatsoever. In fact, since this delivery fee does not go primarily to the driver, then this means that drivers are making less money as customers are not as generous with their tips. Where Pizza Delivery is concerned, they have found a way to screw both their employees and their customers at the same time. But enough about food delivery…we can chalk this up to an impulse splurge that comes when you are simply craving something that you don't already have and are too tired to go out and pick up the food.
[caption id="attachment_11512" align="alignnone" width="760"]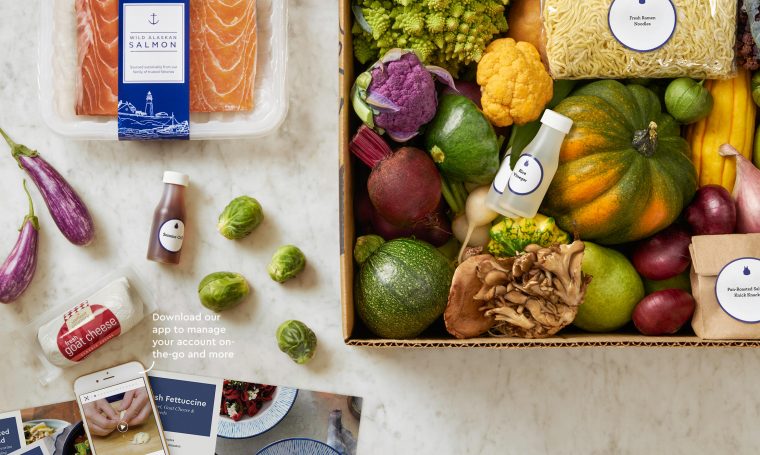 blueapron.com[/caption]
So then what about Meal Kits? Of course, when you have something that proves to be a success, you can count on Amazon to copy it and attempt to dominate the market. But what about Blue Apron? Is it worth it? Here are some pros and cons-
Pros-
Fresh ingredients
Opportunity to try new foods
No extra food to waste is sent
Recipes can be made in 40 minutes or less
There are two person plans and family plans
There is no long term commitment to their subscription plan
Cons-
It comes with a lot of packaging material- Bad for the environment?
Cook your own food at a typically more than normal amount of time
If you are cooking for your family, then the kids may not enjoy or appreciate the recipes
Expensive- You can buy the same ingredients at the grocery store for the same amount of money or less- Extra ingredients can be purchased at grocery store and saved for another meal. For the family plan you can expect $9.00 per serving which you can usually do better than this at a restaurant for your kids and you don't have to cook it or deal with the mess.
To me, this sounds like something a person might want to do once a month just to shake things up, but for the money (especially with a family) it may not be worth it. It seems like the eating at home option is becoming just as expensive or more costly than eating out if you don't stick to the traditional home cooking alternative.