If you're having trouble accessing some of your favorite sites like Twitter, Spotify, AirBnB, and more, you're not alone. Mainly affecting the East Coast of the United States, denial of service attacks were making these sites unreachable for a lot of users. DOS attacks occur when sites are flooded with large amounts of fake traffic, overwhelming the system, and making it unreachable for real users.
Dynamic Network Services Inc., also known as Dyn, said that its Domain Name System service was the victim of such cyber attacks, which started at 7:10 this morning. Although the issues seemed to be resolved at around 9:30, a new wave began.
The following map from PayPal shows disruption as of 12:45PM Eastern Time:
[caption id="attachment_5161" align="aligncenter" width="640"]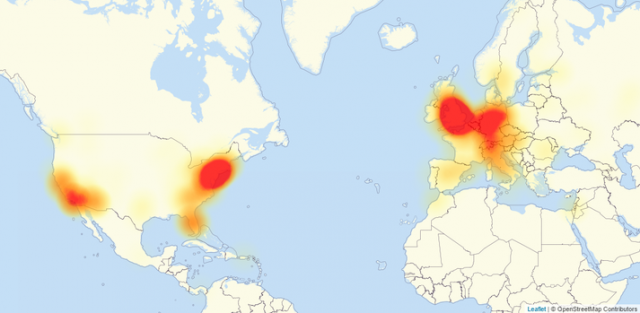 DownDetector.com[/caption]
Dyn spokesman Adam Coughlin stated, "We're still digging into root cause, but ultimately it was limited to the East Coast of the U.S." While the source of the attacks is yet to be known, a lot of websites are being affected. The Wall Street Journal and AirBnB's websites were down for periods this morning. Amazon was also having issues from 7:31 - 9:10 Eastern Time this morning.
Government agencies are also looking into the issue.
Featured Image: Patrick George/Getty Images