For decades when a person wanted to cross a busy street they would see a little figure that would indicate that it was ok for them to cross. Usually, it is a little human figure that someone could mistake for a man. However, in Australia, some women have had enough. The Committee for Melbourne is responsible for this new action of replacing some "stick men" with stick women. Martine Letts, the chief executive, said, "The idea is to install traffic lights with female representation, as well as male representation, to help reduce unconscious bias." They stated that they want to see female and male representation on all pedestrian crossings. "The aim is to move towards one-to-one male and female representation across the state of Victoria," she claimed.
[embed]https://twitter.com/jodilee\_7/status/838893193999441920\[/embed\]
[caption id="attachment_9284" align="alignnone" width="700"]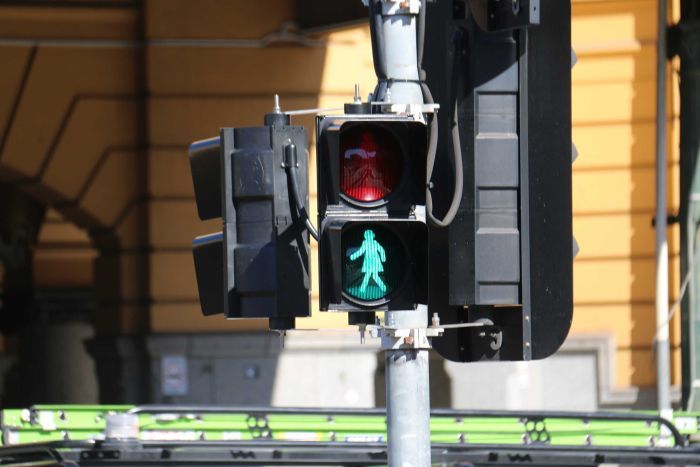 via abc.net.au[/caption]
However, not everyone thinks it is a superb idea. The Institute of Public Affairs', a think tank, representative Evan Mulholland responded to the move by stating, " …[this is] politically correct gesturing by policy makers that want to feel good about themselves." He continues, "Ordinary Victorians are concerned about job security, rising crime, and transport infrastructure." And amongst Twitter, there are a variety of views.
[embed]https://twitter.com/abcnewsMelb/status/838871857210114048\[/embed\]
[embed]https://twitter.com/ArtsandCulture/status/838937135893733376\[/embed\]
But let's think about this for a moment-This is a feminist movement and that is ok. There is nothing wrong with pushing equality for women in society. But is that what this did? They took a neutered figure with no genitalia and put a skirt on it. It seems if anything this might be a step back for women rights. The only way to depict a woman is with a skirt? There is nothing improper with women in dresses, but it seems odd for a group that would want, "to see Melbourne also known as the world's most equal city," that they would force a skirt on a woman. It also seems odd that they would choose a figure that represents a gender neutral human and force a gender on it. In their defense, however, most restroom signs have these figures to depict the proper gender for that facility. But does it really help to further the gender issues that plague the women's equality movement by making other more neutral individuals unnecessarily feel put off by this move? Does this help the movement or take it back a step? Or could this be mistaken for a man in a kilt? You be the judge!
[embed]https://twitter.com/planetredmania/status/838911224951648256\[/embed\]