If when you imagine your dream holiday what comes to mind is sun, sand, and sea, then Koh Samui should be one of your top choices. Not only can Koh Samui allow you to enjoy a well-earned vacation that involves exploring secluded bays and spending your lazy days relaxing and sunbathing, but some of the best and most luxurious villas are also situated in Koh Samui. As such, everything that you need to make your getaway perfect is located in this little cosmopolitan island known as Koh Samui.
Because Koh Samui has become a popular destination for vacationers looking for modern luxury, the number of secluded villas has also shot up over the years to accommodate demands. But as always, not all are created equal. To ensure that you get the fabulously styled villa that will guarantee a perfect beach holiday, here are Koh Samui's most luxurious villas for you to explore:
Villa Zest
Koh Samui villas really do not get any better than Villa Zest. Neatly tucked away on the pristine west coast of Koh Samui and overseeing the stunning Angthong National Marine Park, Villa Zest comes complete with a massive infinity pool and an enchanting landscape of perfectly manicured lawns that are perfect for family relaxation.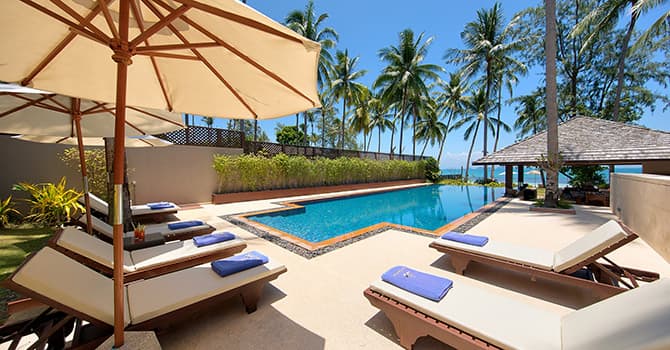 Koh Koon
If you are traveling with a large group of friends or family, then you will love this Luxury 7-bedroom situated in Chaweng Noi Beach. Surrounded by glittering views of the ocean, the Koh Koom estate features amenities that you will be hard pressed to find elsewhere such as a pitch and putt golf, a fully stocked game room with a pool table, an oversized swimming pool, as well as a deck area where you can sunbath your lazy afternoon away.
La Vue Villa
This a 4-bedroom Oceanview villa will help you create memories that will last forever. Fully equipped with a spacious pool terrace, a stunning outdoor sala, as well as a well-stocked fitness room, La Vue Villa is situated only minutes away from the Bophut Beach. With its stylish elegance that subtly blends traditional Thai design with modern tropical elements, La Vue Villa has everything that you need for the ideal holiday in Thailand.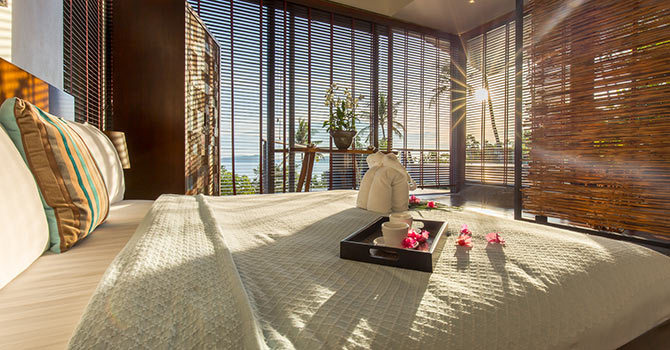 Motsamot Villa
Motsamot Villa is a 5-bedroom tropical hideaway that is located just a few minutes away from Choeng Mon Beach. Boasting a poolside BBQ, a gorgeous Thai sala and a relaxing lily pond, Motsamot Villa, this elegant villa also has a sophisticated interior that will make for a relaxing home away from home while you are in Thailand.