What makes copper cookware sets so popular these days? Against the durability of stainless steel and the prolonged retainment of heat in cast iron, what makes copper stand out among the rest? From celebrity chefs to upscale restaurants, copper cookware can be seen in the most prestigious of kitchens. One of the most highly conductive materials to heat, copper is seeing a surge in popularity these days among the top cookware materials available on the market. With shining copper pot and pan sets making the rounds on sites like Pinterest and Instagram due to their obvious visual beauty, there's no wonder why copper cookware is among the most sought after kitchenware out there.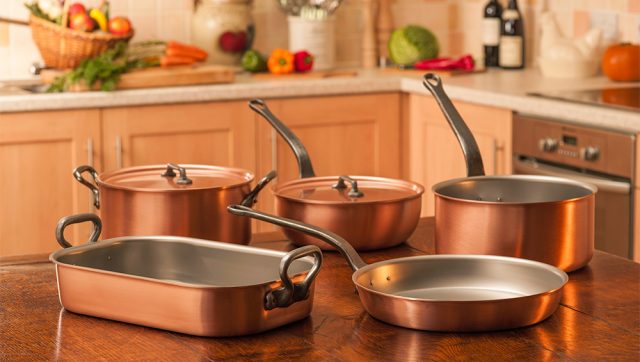 Benefits of Copper Cookware Sets
There are a number of reasons why copper cookware sets are so popular with top professional chefs, and it's not just due to their visual beauty. Below are some of the main benefits that make copper such a trendy material for cookware.
-Precise Temperatures: One of the greatest benefits is its ability to increase and decrease it's temperature quickly. Copper cookware allows you to hit precise heats. When you, reduce the temperature on the stove, the copper reacts quickly, changing the temperature of the pot almost immediately. This allows you perfection in cooking, particularly in braising and browning.
-Heat Conductivity: Copper also has superb heat conductivity. There are no hot spots in copper cookware; heat is distributed evenly throughout the whole pot or pan. This is great when cooking a large quantity of food so you can ensure proper heat is reaching every surface of the pot or pan and not just a few key hotspots. As well as ensuring food is properly cooked, thus avoiding food poisoning, it also speeds up cooking time and means you don't have to constantly tilt and turn the pan to ensure adequate heat in all areas.
-Weight: Copper cookware has a great weight to it. It's is heavy enough to sit securely on your stove, while remaining light enough to carry with just one hand easily. So even when your large copper pot is full to the brim with food, you won't struggle to lift it due to an unnecessarily heavy material.
-Appearance: There is no denying the beauty of a copper pot or pan. Brightly burnished copper makes for some of the most attractive cookware sets around and you'll easily see show kitchens in open houses and magazine spreads featuring shining copper sets because of their rich visual quality.
Below are some of the most popular and well-tested copper cookware sets and copper pans that you can easily buy online.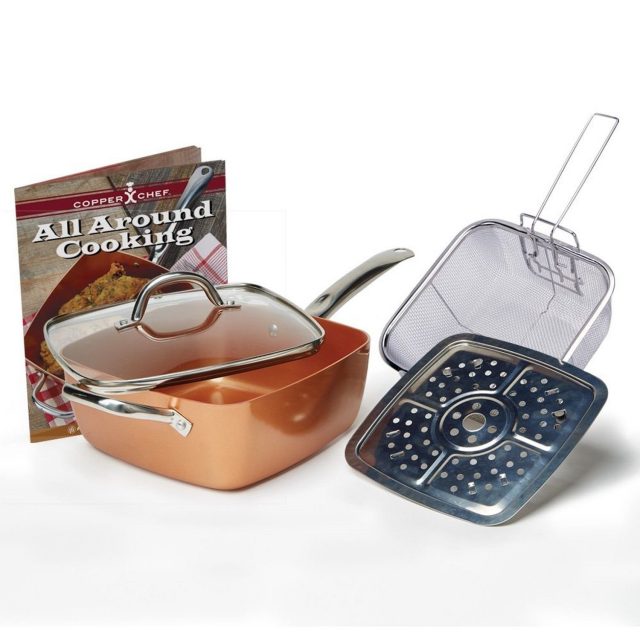 -6-in-1 Pan: The 9 ½ inch square pan is highly versatile, perfect for baking, frying, roasting and steaming. The 6-in-1 versatility means it can be used as a baking dish, roasting tray, rice cooker, steamer, stock pot and wok for one go-to pan to meet all your needs.
-Non-Stick Technology: Made from Cerami-Tech non-stick technology, you won't have to deal with cooking oils and cleanup is a breeze. PTFE and PFOA free, your pan is completely safe, while making cooking mess free.
-Tempered Glass: The glass lid is made from tempered glass that is oven safe, capable of withstanding temperatures of up to 500° so you can cook with high heat without risk of damaged or cracked glass.
-Dishwasher Safe: To make cleanup even easier, this pan by Tristar is completely dishwasher safe. Just pop it in the dishwasher after use for a no-fuss cooking process from start to finish.
Buy it here.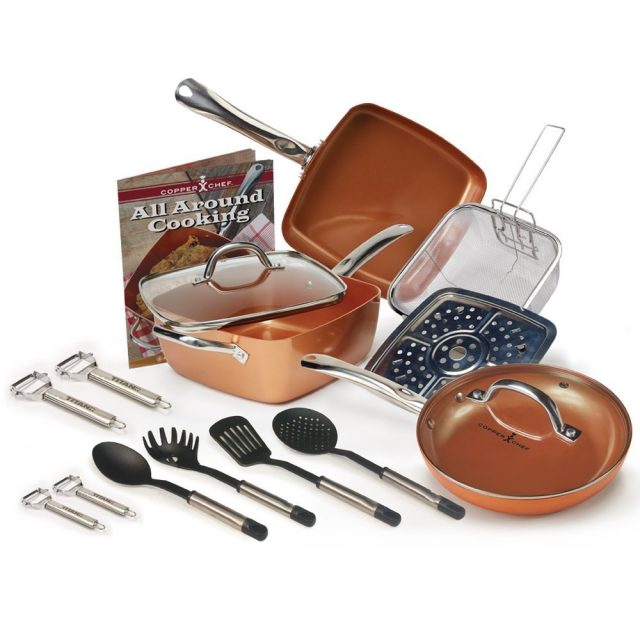 -13 Piece Set: This 13 piece set by Copper Chef includes everything you could need to cook all your favorite meals, including: 10 inch round pan, 9 ½ inch pan, 9 ½ inch square frying pan, fry basket, steam rack and utensils.
-Non-Stick Technology: The Cerami-Tech non-stick technology means you won't need the use of oils or butter for cooking. Food won't stick to the surface and will instead slide right off, making cooking and cleanup as easy as can be.
-No Hotspots: Thanks to the combination of copper surface with stainless steel induction plate, heat transfers evenly throughout the pans for even cooking with no hot spots, ideal for getting consistently excellent results each time you cook.
-Dishwasher Safe: Cleaning your cookware set is simple thanks to every single piece of this 13 piece cookware set being completely dishwasher safe.
Buy it here.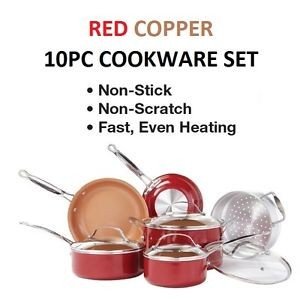 -10 Piece Set: Perfect for all your cooking needs, this 10 piece cookware set includes: 8-inch frying pan, 10-inch frying pan with lid, 1.5-quart saucepan with lid, 2.5-quart saucepan with lid, 6-quart saucepan with lid and steamer insert.
-Non-Stick Ceramic: The non-stick ceramic makes cleanup quick and easy. Cooking without the use of cooking oils or butter is a reality as food will simply slide right off this non-stick pan.
-Oven Safe: Able to withstand temperatures of up to 500°, each pan in this copper pan set is completely oven safe so whatever pan you require for your recipes, they can handle very high temperatures that could destroy other pans.
-Lifetime Guarantee: Coming with an unbeatable warranty, this copper cookware set is built to last and has a lifetime replacement guarantee so you can shop without risks.
Buy it here.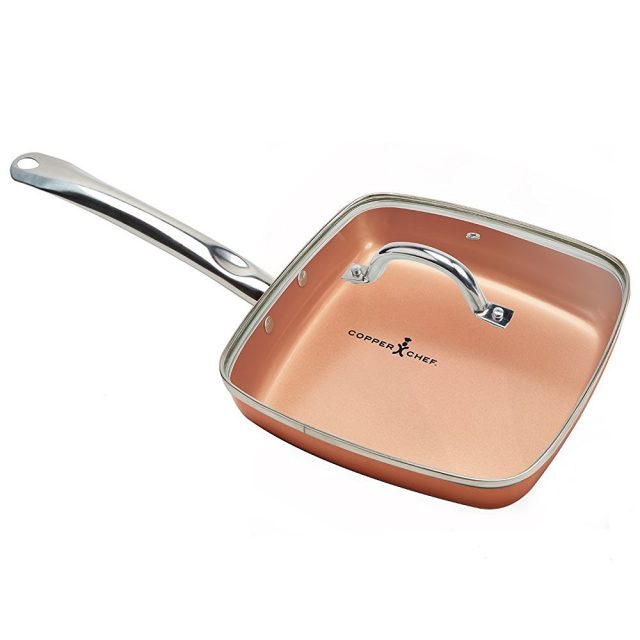 -Deep Fry Pan: This attractive square deep fry pan is 9.5 inches, big enough to cook a large quantity of food for the whole family.
-Non-Stick Technology: The non-stick Cerami-Tech technology allows for an easy cleanup. Food washes right off without sticking and there's no need to use cooking oils or butter.
-No Hotspots: There'll be no hot spots in your pan, allowing for fast, even cooking throughout, thanks to the stainless steel induction plate. This means you'll get consistent cooking results as all the food in your pan is heated quickly and evenly.
-Heat Resistant: Capable of withstanding extreme heat of up to 800°, this frying pan is completely oven safe so it can handle recipes that call for very high temperatures.
Buy it here.
-Non-Stick Frying Pan: This 10.5 inch round copper frying pan is ideal for sauteing, broiling, frying, braising and baking and uses a non-stick ceramic coating for an easy cleanup and no cooking oil necessary.
-Oven Safe: This pan is completely oven safe, capable of withstanding temperatures of up to 550° so you can try out those recipes that even require cooking at extreme heats.
-Scratch-Proof: This ultra durable frying pan is made with ceramic infused titanium steel for scratch resistance that protects the coating even with the use of tough utensils.
-Dishwasher Safe: Cleanup is made even easier, as the pan can be safely popped into the dishwasher for an even faster process.
Buy it here.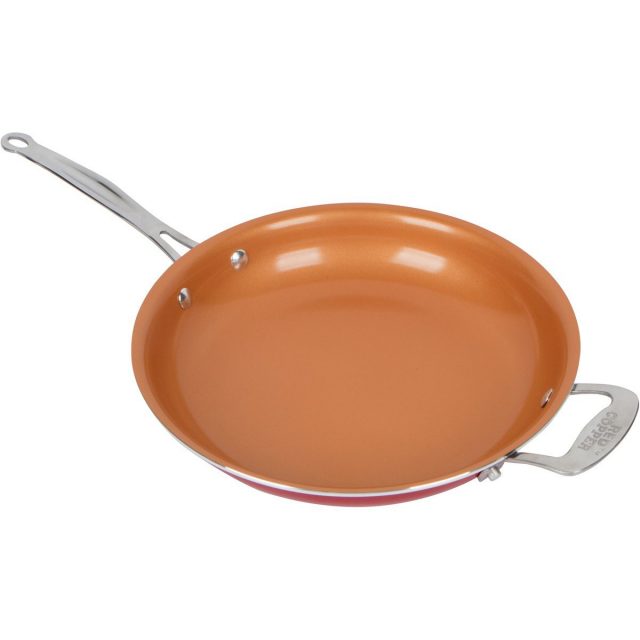 -Large Size: This large 12-inch frying pan is perfect for cooking a large amount of food due to its huge capacity, so it's ideal for families or those who regularly cook for a group.
-Non-Stick Ceramic: The tough ceramic copper means food won't stick to this pan so you can use it without cooking oils and still ensure and easy cleanup.
-Even Heating: The thermally efficient aluminum body of this copper pan provides fast, even heating throughout the whole pan for consistent results in cooking.
-Dishwasher Safe: You can easily pop this pan in the dishwasher after cooking for an easy cleanup that doesn't require scrubbing.
Buy it here.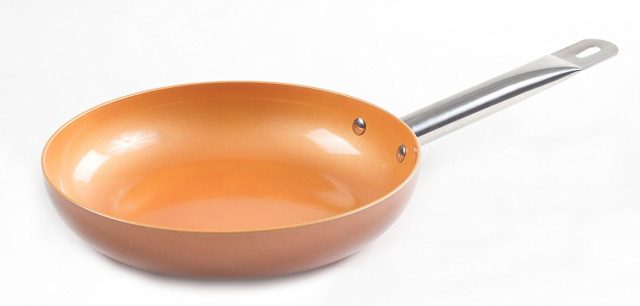 -Non-Stick Ceramic: The ceramic infused technology provides a non-stick coating that food slides right off of. You won't need to use cooking oils and cleanup is a breeze.
-Even Heat Distribution: The stainless steel induction base provides even heat distribution throughout the whole pan for fast, even, consistent cooking.
-Toxic Chemical Free: PFOA and PTFE Free, this pan is eco-friendly, containing no harmful toxic chemicals that could contaminate your food so you can cook with peace of mind.
-Warranty: This copper frying pan comes with a fantastic 5-year warranty for risk-free shopping.
Buy it here.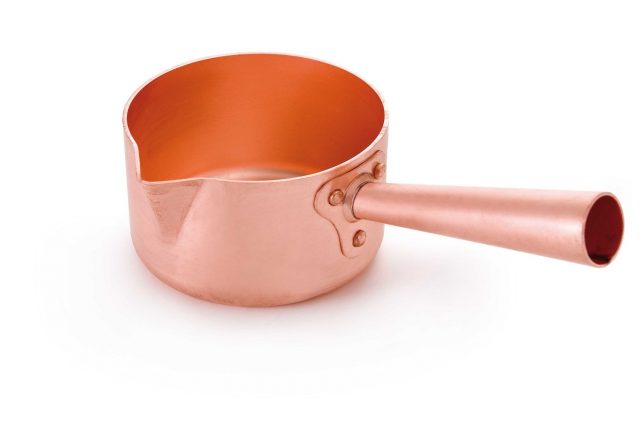 -Sugar Saucepan: This 1.9 quartz saucepan is ideal for preparing sauces, syrups and sugar solutions such as caramel and toffee.
-Even Heat Distribution: The pure copper construction provides unparalleled heat distribution. Hotspots can ruin the caramelization process, making the superb conductivity of this saucepan ideal for controlling even heat throughout.
-Conical Handle: The unique handle of this saucepan is conically shaped and is entirely copper, down to the secured copper rivets.
-Pure Copper: Every inch of this sugar saucepan is made of copper, offering unparalleled ability to heat up and down quickly.
Buy it here.