Pre-wedding gifts can be special – they are intimate, and a timely gesture as you gear up to face the big day.
The pre-wedding gift for your bride isn't about value – it's about sentimentality. You want to make her feel special and loved as you enter a new season together, and what better way to do this than to gift her something she can remember it by?
Let's take a look at four pre-wedding gift ideas for your bride to be.
1. A Keepsake Box
When you and your bride get married, there will be little things that she will want to keep safe. She may want to keep one flower from her bouquet or the ribbon that went in her hair.
If your bride to be likes to keep small items as keepsakes, why not gift her a keepsake box as her pre-wedding gift? What's more, you can even get it engraved with her name on it – or your name as well with your wedding date.
A keepsake box is the perfect sentimental pre-wedding gift that's also practical.
2. Jewelry
A girl can never have enough jewelry, especially leading up to the big day.
What's even more precious about choosing jewelry for her pre-wedding gift is the thought behind it. Whether it's a diamond bracelet or earrings, she'll be sure to remember this token gesture that helped her feel loved in those stressful days leading up to your wedding.
While she can't wait to wear her wedding ring, there's no harm in getting her matching earrings – she'll never want to take them out and may even wear them when you exchange vows.
3. Items for the Honeymoon
Not every pre-wedding gift has to be sentimental – in fact, your bride may appreciate a more practical present.
One thing she may not have time for right now is packing for the honeymoon – it's enough just to have to organize and schedule it. Thinking about the practical things she'll need to take with her and giving them to her as a pre-wedding gift will help to take some of the stress out of it.
Plus, it's the thought that counts, right? If she's had a particularly busy few weeks leading up to the big day, she's sure to appreciate the thought behind such a practical gift.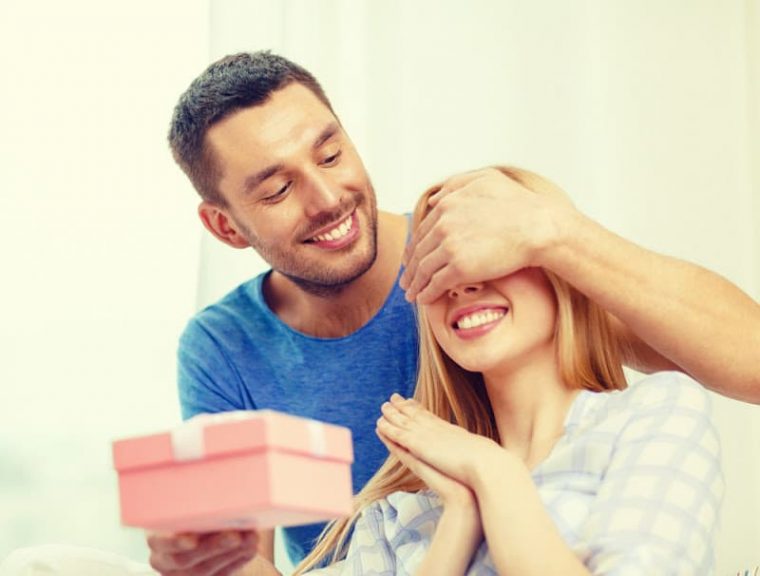 4. Her Favorite Perfume
Not only will you make her day with this pre-wedding gift, but you'll also gain bonus points for knowing what she loves to wear, too.
This is a gift that's both practical and sentimental. It's practical because she may almost be out of her favorite perfume and hasn't had time to order it again, and it's sentimental because it shows her that you notice little things like that.
Gift her a signature scent for her pre-wedding gift, and she'll appreciate how you notice the little things.
Final Thoughts
There's always time to gift your bride to be a pre-wedding gift. Whether it's sentimental or more on the practical side, remember, it's the thought that counts.
Those weeks leading up to a wedding can be stressful for everyone, but nobody more than the bride herself. Relieving the tension with a token gesture like a pre-wedding gift is a perfect way to set the mood as you prepare to get hitched.