It would not be wrong to say cooler bags are one of the best inventions. Whether you need to keep your food fresh on a picnic or at work, a decent cooler bag can do the job for you. After the success of regular cooler bags, many companies have introduced cooler tote bags as well.
This tote bag has the same features as a basic cooler bag. It performs well with style. Therefore, you can take it to work or an outdoor party to keep your food and beverages fresh and edible.
Take note that you can purchase custom products like cooler tote bags according to your preference to make the most of your experience. If you are looking for a top-notch cooler tote bag, this blog will help you.
Design and Size
The best way to choose a bag is to look for its design and size. For this, you need to know where you are going to use this bag.
If you are organizing a picnic where you will need two or more food items along with drinks, you may need a big cooler bag with enough space.
Moreover, on a picnic, you may need chilled beverages in a large quantity. So, it is must to have a bag with smart and functional design. And, spacious enough to store all your drinks and food.
[caption id="attachment_15659" align="aligncenter" width="760"]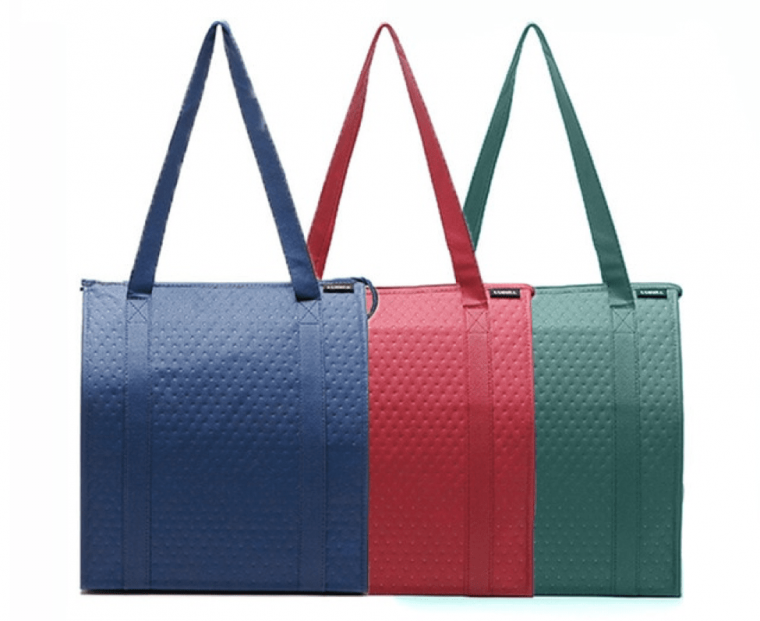 Image source: AliExpress[/caption]
Quality and Style
It is true that an aesthetically pleasing bag appeals to everyone. But, when it comes to a cooler tote bag, you need a high-quality one. Moreover, you can find many bags with top-notch styles that may draw plenty of attention as well.
Despite that, you should look for one that performs well. If a stylish cooler tote bag does not maintain the quality of your food, it is useless.
Take note that a high-quality tote bag can keep your food fresh and drink cold for up to 10 hours. So, take your time and find a bag that performs really well.
Features
It is crucial to learn about the features of a cooler tote bag before purchasing. This way, either you will get the best product or save your money by not investing in a functional bag. You should know what features make a cooler bag worthy.
For example, you can count space inside the bag as a feature too. If it lets you hold plenty of drinks, it is surely the best bag. Moreover, you can look for the hard-plastic liner. If it comes out, it will make cleaning easier.
Plus, cleaning your bag on a regular basis will increase its lifespan as well. Apart from this, the portable size of a cooler tote bag also includes in features. Its portability will let you move it from one place to another without a hassle.
Most of these come with straps which are incredibly important, especially if you need to walk to reach your destination.
In this case, you are supposed to look for straps whether they are useful or placed just make it look like a stylish bag. If the straps are comfortable, walking while wearing your cooler tote bag will not bother you.
Bottom Line
Once you have invested in a high-quality cooler tote bag, you are likely to make the most of it. This is because these bags are durable and last for years. This fact is interesting.
However, you need to find a cooler bag that is made according to a certain standard. To get the best product, you need to conduct thorough research.
From size to features, each factor should be a part of your research. This way, you will find the perfect cooler tote bag that will make your picnic or trips fun and convenient.