If you've been on the search for children's toys that really help you unleash your child's full potential, and nurture their creativity, and stoke the fires of their imagination – all while preparing themselves for the most competitive environment in human history as best you can –you'll want to think about getting them at least a handful of toy robots to play with!
Toy robots for kids, especially those that children are able to build themselves – or at least tinker around with and modify – are a great way to get children excited about potential STEM career fields later on in life.
Technology is becoming a critical part of our day to day lives, and with many of the most lucrative careers requiring employees to have a firm handle on advanced technology, it's not a bad idea to get your children started off working with robotics and learning how to engineer all on their own (even from a young age).
Trying to find the best toy robots for kids can be a bit of an uphill battle, however. That's why we've put together this quick guide to help you choose from amongst only the very best of the best options already available on the market today.
Let's dive right in!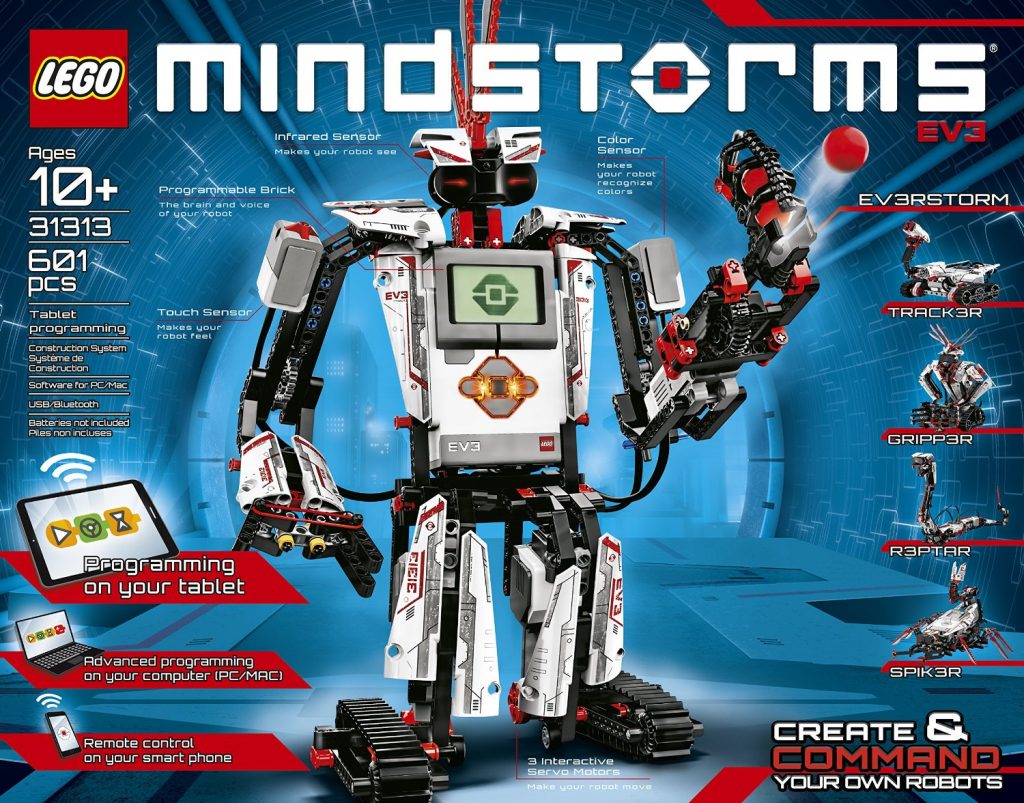 Lego toys have always been favorites of children, but this latest line of Lego toys (part of their INTELLIGENT BRICK lineup) not only leverages the Lego blocks that you may have played with as a child but also makes use of powerful computer processors, USB technology, micro SD card readers for memory, and even Wi-Fi connectivity.
Not only will kids have the opportunity to build their own Lego robots and designed it themselves, but they'll also be able to program their own robot using the three interactive servomotors, remote control modules, and infrared sensors.
This is one of the most robust Lego toys you're going to come across today and it definitely represents one of the best robot toys you can give your children!
Find it here.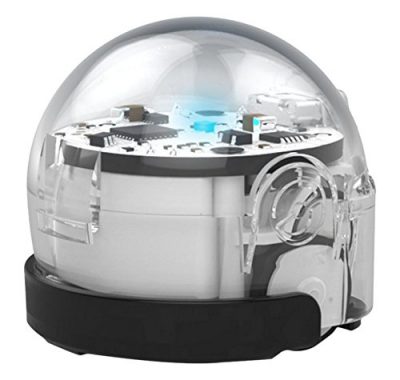 This robot toy is pretty simple, pretty straightforward, and pretty "minimalist" on the surface, but underneath the straightforward appearance is a ridiculously powerful and adaptable robot toy that your children are going to love experimenting with.
An educational toy hidden inside of a completely programmable robot, these 1" x 1" robot toys are ridiculously compact but offer tons of fun. You'll be able to program your robot to dance, to race, and to interact with the world around them in new and exciting ways.
Designed specifically to help facilitate STEM fundamentals, it also helps to teach children from a young age how to program and code – easily two of the most valuable skills for the foreseeable future.
Find it here.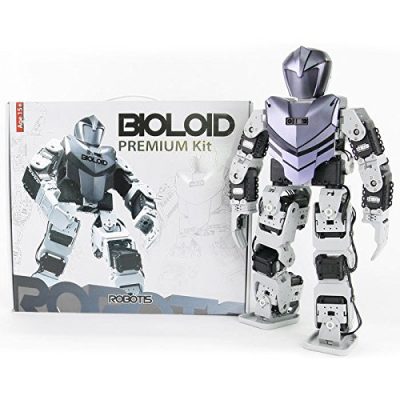 This is by no stretch of the imagination one of the cheapest toy robots you're going to give your children (and naturally the kind of toy robot that you'll want to monitor your children's playtime with), but if you have the budget for this premium kit robot you'll be able to really ramp up the amount of education your children get out of playtime for sure.
A humanoid robot capable of walking and interacting with the environment, it includes a number of different sensors (including infrared, gyroscopic sensors, distance rangers, and a whole host of others) that allow you to program this robot to do pretty much anything and everything a human can – if only on a much smaller scale.
Not only will children have the opportunity to tinker around with this robot (giving it different accessories and making it follow specific commands), but you'll also have the opportunity to control it remotely with a wireless command module – or program commands for the robot to follow based on environmental and actionable input it collects on its own.
Find it here.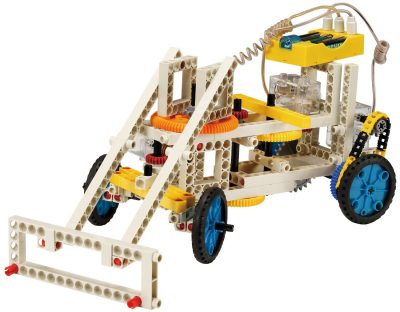 Perfectly combining robotic toys with remote-controlled toys in a way that simply hasn't ever been done effectively before, this toy robot collection gives your children all of the flexibility of a Lego set with the programmable capabilities of modern computers in one unique set up that's really tough to beat.
Kids will have the chance to build their own vehicles and their own robots using the three simple motors that can be combined to create much more complex machines. The kit includes everything necessary to build up to 10 different and unique models, and because the blocks are so similar in construction to Lego your only limitations are going to be your imagination.
This is exactly the kind of toy that was created and built from the ground up to give children the opportunity to get excited about engineering robotics, and programming all without ever detracting from playtime. It's a "smart toys" throw and through, but it still comes off as the kind of toy that you'd find in any child's toy box throughout the years.
Getting your kids jazzed up about playing with this remote-controlled set up isn't ever going to be a challenge!
Find it here.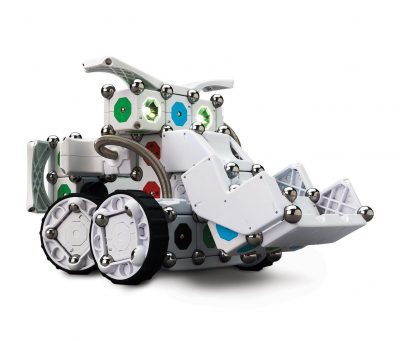 Make no mistake about it, we may have fallen behind in the STEM career fields and have lost a lot of the excitement as a nation that we used to have regarding the space industry, but missions to Mars and the privatization of space travel are both really working to rekindle the wonder that Americans used to have about the "Last Frontier" – space itself.
Designed to closely mimic (if not in form in the function) the lunar and Mars rovers, this modular robotics kit is going to give you and your child everything you need to create anything from primitive robots to ridiculously complex machines – all of which can be programmed and commanded without a whole lot of headache or hassle.
You'll be able to create using the MOSS bricks and steel spheres that add a lot of extra weight and significance to your creations, but you'll also be able to combine joints, hinges, kinetic components, and motorized programmable systems that can be tightly integrated with the rest of the unit to fasten together complex machines.
The central "Double Brain Block" that allows you to program these custom robots can be connected to iOS and Android devices via Bluetooth technology. This opens up a world of customization and programming options that don't exist with other toy robots.
It sure doesn't hurt that these toy robots also happen to be some of the most affordable options available on the market today (at least for what they are capable of)!
Find it here.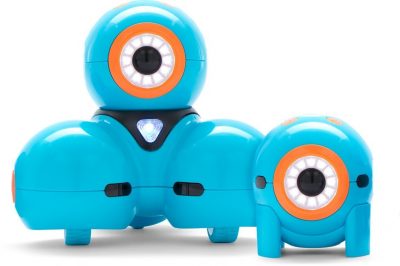 Most of the toy robots that we have highlighted above are going to be robots that you or your children have to assemble, but these robots are going to come already assembled and ready to rock and roll.
A lot like the Minions from the movie Despicable Me, these robots can be completely programmed through the Bluetooth connection available. All you have to do is connect these robots to your Android or iOS device and you'll be good to go!
These robots have been designed and engineered with a variety of different sensors that allow them to understand and interpret the world around them. They can hear and be programmed to understand sounds and directives, can detect objects throughout the world around them, and will be able to immediately determine whether or not they are being moved or if they have to move themselves – depending upon the commands that you have passed along to them.
A lot more fun than some of the other robots you'll have the opportunity to purchase as toys, these are designed primarily to be an exciting entry point into the world of programming and robotics without compromising on the amount of fun you and your children can have together.
Find it here.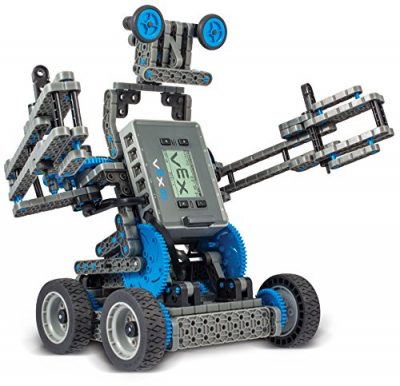 Johnny Five comes alive with this robotics construction set, giving you and your children the opportunity to create a near carbon copy of this beloved robot from the 80s or use the building blocks and raw materials to create most any other robot form you can imagine.
All of the different unique building components can be combined with one another similarly to Lego systems (you're probably noticing a trend here), but there are other "raw materials" in this robotics construction set that are distinctly different.
These are the components that come together to allow you to articulate your robot, build it specifically to climb different terrain, and take advantage of the lithium-ion, LED, and numerous sensor technologies built into this system in almost any way you and your children can imagine.
Find it here.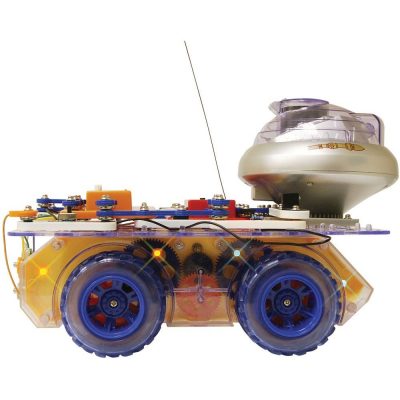 Learning how to play around with electricity safely – especially when constructing fun robots that can be programmed in a variety of different ways – is going to be a real possibility for you and your children with this toy robot set.
You'll be able to fiddle around with the circuits that snap together in this system in most any way you'd like, giving children age 8 and up the opportunity to build and design real working models of electrical circuits without any real risk or danger (provided that they are supervised, of course).
The beauty of this robot system is that the circuits effortlessly snap together and requires zero soldering and no tools along the way. The circuits work similarly to traditional circuits found all over the high-tech industry, and the possibilities for creating unique robots with this system are off the charts.
Best of all, these kits can be combined with one another – as well as outside parts and components – to create even more inventive projects. The sky quite literally is the limit when you're building with this robotics toy.
Find it here.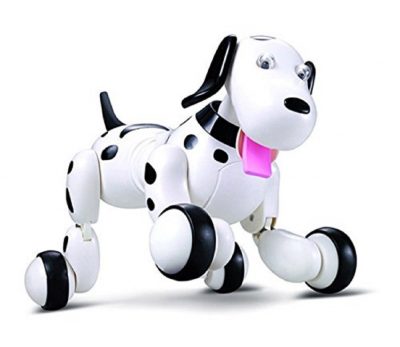 Babrit Wireless Remote Control Smart Dog Electronic Pet Educational Children's Toy Dancing Robot Electric Dog
This is a far cry from the robot toy that was one of the hottest selling Christmas gifts in the early 90s, a robot dog that could sit, could stay, could barely walk, and obeyed simple commands.
This version of that robotic dog has been overhauled completely almost from the ground up. Controlled by a stable 2.4 gigahertz radio remote control signal (though it can also be paired to tablets and mobile phones with a neat little hack), this dog dances, response to all of your commands, shows a full range of emotion, and basically acts like a digital puppy.
You'll be able to get your children excited about the world of robotics with this toy, but you'll also be able to teach them what it's like to have a dog up their own if that's something that you are considering in the future. Getting them to take care of this digital pooch is a great way to lay down the fundamentals of taking care of the "real thing" later down the line!
Find it here.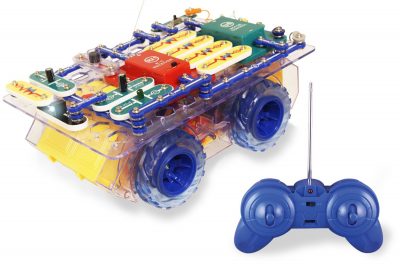 Snap Circuits R/C Snap Rover Electronics Discovery Kit
A lot like the Snap Circuits kit we recommended above, this discovery kit gives you all of the components and materials necessary to build up to three different rovers at a time with a control and command system that can be uniquely program to operate all of those robots independently at once.
Utilizing the same snap together circuitry as the toy above, you are going to have the same kind of flexibility to create most any rover you can imagine when you're using these unique robotics toys. You are also going to have the opportunity to combine and swap parts all along the Snap Circuits lineup, opening up and entire world of creativity and imagination that knows no bounds.
The directions for creating simple and straightforward rovers couldn't be any easier to follow, and you'll want to encourage your children to follow along with those directions (at least at first) to get them to really understand the basics of what's going on here with this robot toy.
After creating your first "by the book" robot, however, you're going to want to turn loose their imagination and allow them to mix and match circuits and components to come up with something entirely of their own creation.
Find it here.
At the end of the day, you are going to have a lot of different options to pick and choose from when it comes time to purchase toys robots. Many of them are worthwhile to own and to help you get your children excited about robotics, technology, and the STEM fields, but we have highlighted 10 of the very best in this quick guide above.
Focus your attention on these toys and you won't have to worry about making the wrong purchase.