Just trailing Alaska, Texas claims the title of the second largest state in the United States.  It is known for its big skies, famous BBQ, hospitality, and southern pride.  Even with its reputation, many people do not realize till they visit Texas that it is so much more than just cowboys and honky-tonks.  Here is your guide to the best places to visit in Texas that will have you packing your bags and slipping on your cowboy boots.
San Antonio
Remember the Alamo?  Yes, its in San Antonio, but it is not the only awesome thing to see in this Texas city.
The Riverwalk

Take a stroll and a boat ride down the largest urban ecosystem in the nation.  The San Antonio river walk or the Paseo del Rio is 15 miles of paved path alongside the river that runs through beautiful downtown San Antonio.  The walk is abundantly lined with cypress trees, river front restaurants, shops, and museums.  It is a tranquil oasis in the heart of the city. [caption id="attachment_11465" align="aligncenter" width="1000"] Expedia[/caption]

Natural Bridge Caverns

Sure, Texas is beautiful above ground with its pastures and forrest, but what is even more beautiful is what one can discover below ground in Natural Bridge Caverns.  Natural Bridge Caverns is known to be one of the best show caves in the world.  As you make your half mile trek 180 feet down, you will be in awe of the glorious rooms decorated in towering stalagmites and stalactites.  If you feel like taking your adventurous side to the next level, you can take a tour that involves you crawling and exploring pitch black caves with just your group, a tour guide, and a helmet with a flashlight. [caption id="attachment_11466" align="aligncenter" width="1000"] My Musings[/caption]

Rosario's

San Antonio has some of the best Mexican food in the United States.  So, to have the award for best Mexican food in San Antonio consistently is really saying something.  Rosario's is a vibrant restaurant whose atmosphere and food never disappoint.  You cannot leave San Antonio without enjoying this local treasure. [caption id="attachment_11467" align="aligncenter" width="1000"] WhereTraveler[/caption]

The Alamo

According to "Visit San Antonio",  2.5 million people visit the Alamo every year.  People from all over come to see this historic site that Texans hold very near and dear to their hearts. [caption id="attachment_11468" align="aligncenter" width="1000"] www.history.com\[/caption\]
Gruene
If you have ever dreamt of visiting the cutest small town in America, make your way down to Gruene, Texas.  Founded by German immigrants, this beautiful town is full of natural beauty and charming architecture that will take you back to a different time.
[caption id="attachment_11472" align="alignnone" width="760"]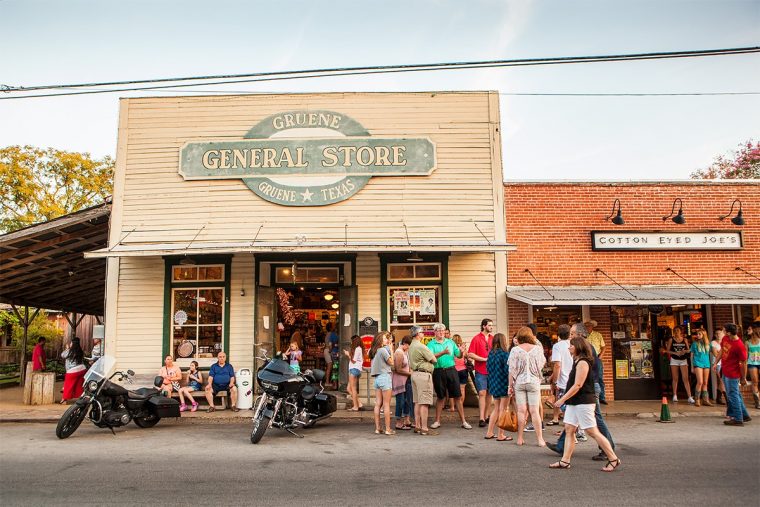 In New Braunfels[/caption]
Comal River

Float down this beautiful river on tubes with your family as you are surrounded by the beauty of New Braunfels.  The river is about 2 miles long, and you can even enjoy a drink as you float down the water! [caption id="attachment_11469" align="aligncenter" width="1000"] landafalls.com[/caption]

The Gristmill Restaurant

Hidden on the banks of the Guadalupe River, the historic Gristmill Restaurant has people from all over leaving its door enchanted by its preserved historic charm, amazing food, and pristine nature surroundings.  It is easily one of the most beautiful places you can eat in Texas. [caption id="attachment_11470" align="aligncenter" width="1000"] RV Wheel Life[/caption]

Gruene Hall

If you are looking for a good time, make sure to visit Gruene Hall.  Many big names have performed and have had a good time in this country music hall.  Considered the oldest running dance hall in Texas, Gruene Hall is the place to get the authentic country music dancing experience you are longing for in Texas. [caption id="attachment_11471" align="aligncenter" width="1000"] Gruene Historic District - blogger[/caption]