3D4Medical is a renowned company which develops cutting-edge software applications for the medical learning niche. During September of 2016, this established and respected company made a new product available. It's known as Complete Anatomy and it's designed for usage with Mac computers (notebooks and desktops).
Bear in mind that this isn't the first version of Complete Anatomy. It's a new version which takes the beneficial properties of Mac computers and utilizes them in order to provide even better features.
After the launch of this new software application, more than one hundred post-secondary educational facilities in America signed on to utilize this ultra-modern platform. The universities which signed on will pilot the software. Also, it's being used at universities and colleges all over the world.
What Is Complete Anatomy?
This software app for Mac provides the same great functionality and features as the iPad version (which already exists) does! However, it offers special benefits because it utilizes the superb graphics processing capabilities of Macs to best advantage.
For example, the Mac version of Complete Anatomy features amazing resolution, stunning texture and the ultimate in fine detail. As well, the Mac format is designed to utilize the larger screen size of Macs in order to showcase more information and more options. This means that navigating is a faster process. Streamlining navigation makes it easier for users to access the information that they want and explore the app with ease. It's the key to making this already user-friendly software program even more user-friendly!
This software program is the preferred atlas for anatomy. The pilot program is for undergrads and postgrads in a host of universities all over the world, including a range of Ivy League colleges and other high-ranking and prestigious post-secondary educational facilities. It's all about putting the app in the hands of medical students who are the cream of the crop. However, it's not just for medical students. It's really for everyone.
[caption id="attachment_9419" align="aligncenter" width="760"]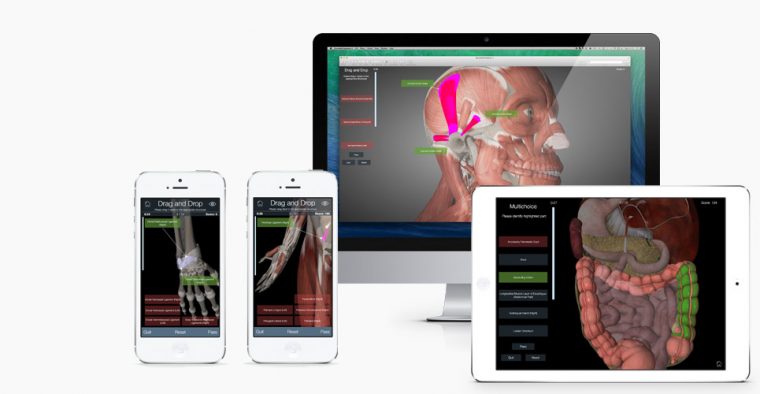 3D4Medical[/caption]
Feedback is Really Positive
The Chief Executive Officer of 3D4Medical is thrilled with the positive feedback that his company has received so far, in relation to the Mac version of Complete Anatomy. His name is John Moore, and he and his team feel validated by the positive reviews they've gotten, as well as the big number of colleges and universities who are using Complete Anatomy's Mac version.
In the eyes of the software development company's visionary CEO, Complete Anatomy is a revolutionary new approach to medical learning.
Complete Anatomy earns accolades in its other versions, too. It won a Best of 2015 title at the Apple App Store. As well, it was awarded the Apple Design and Innovation Award 2016. This award was announced during the Apple Worldwide Developer's Conference.
Overall, response to this amazing app is overwhelmingly positive. By making the app available for Mac desktops and notebooks, customers will be able to get the information that they want while they're sitting at their desks or whether they are on the go. As well, the new version of Complete Anatomy promises to expand knowledge by reaching a brand-new audience. Anyone who is interested in anatomy and medical learning in general will benefit from this exceptional medical platform for Mac computers.
Complete Anatomy offers a dazzling, 3D experience which allows for incredible exploration and easier visualization. As well, it has sharing features which add so much value. You may find the new version at the App Store. It's a great way to learn about anatomy and the company that produced it has put so much work, creativity and technical know-how into this intuitive, easy-to-use program. It's really the key to understand the human body, inside and out, in three dimensions.