When eating at home, it is always nice to add a little something extra to your meal that can compete with that restaurant quality. Instead of buying expensive meat rubs and sauces that may not be that exact flavor which you prefer, get creative and make your own. Many people may think they don't have the skills or creativity necessary to make one of these, but it is very simple. You don't need to worry about messing up, while it will take time to get your recipe just the way you want it, anything that isn't perfect will still taste delicious. Making flavors that you and everyone will enjoy leads us to two main categories- Seasoned and Sweet. Surprisingly the sweet can be used on beef, chicken, or vegetables. The seasoned flavors can be utilized on those as well, but it may be best to use the seasoned blends for pork.
Using a sweet meat rub with ingredients that begin with the principal part being brown sugar and adding flavors such as cinnamon, Jamaican Allspice, and Nutmeg. Believe it or not, this will taste amazing with steak. If you want to turn this into a sauce, then you will want not to add as much brown sugar and mix the ingredients with honey, molasses syrup, and vanilla. This combination may sound like it may be too heavy but it will cook out most of the richness leaving a sumptuous flavor. You can then paste this on your meat, but you can also liven up your asparagus, corn, or broccoli.
[caption id="attachment_8107" align="alignnone" width="400"]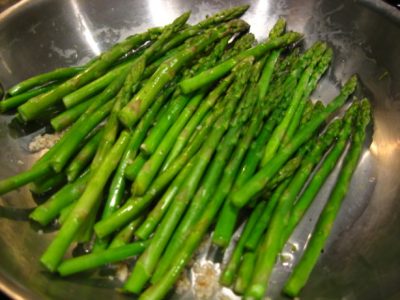 via food.com[/caption]
A seasoned meat rub can be far more experimental. Always start with onion and garlic powder as your main ingredients. Further, you can add paprika, salt, Italian seasoning, and then the sky is the limit. Turning this into a sauce is simple. You can use olive oil as your base or if you want to use a cheaper seasoned alternative you can buy a cheap bottle of Italian salad dressing for around one dollar and use it in place of olive oil. Then you can add roasted garlic slices into the mix as the oils absorb their flavor and if you are feeling adventurous throw in some sliced cherry or grape tomatoes and diced peppers. If and when grilling, make sure to wrap your vegetables in aluminum foil and cook your meat at high temperatures, turning it often. This procedure will retain the juices in the meat and make a succulent entree. Make sure to prepare all of your sides, so that they are finished when the meat is, and it can be eaten sizzling hot! Bon Appetit!
[caption id="attachment_8108" align="alignnone" width="400"]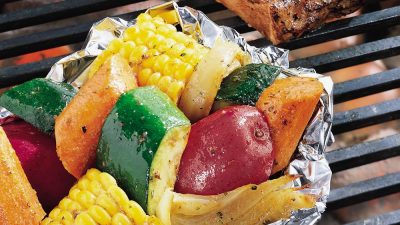 via pillsbury.com[/caption]