Sideline reporter for Fox NFL and Dancing with the Stars host, Erin Andrews revealed her battle with cervical cancer.  Erin did not let cancer stop her from working.  According to Fox News, Erin did not miss a single NFL game while battling cancer.
So when did her battle with cancer start?  During a meeting at the New York Giants' team facility in September, Erin received a call from her doctor telling her that she had cervical cancer and was in need of surgery.  Her first surgery was a month later on October 11th at Los Angeles' Cedars-Sinai Medical Center.  She had a second surgery on November 1st.
Erin's passion to work was evident in her words before going into surgery.  While preparing for surgery she told her oncologist that, "This is [FOX's] Super Bowl year, and I'm not missing the Super Bowl."
After surgery she did not skip a beat when it came to going back to work.  She admits, "Should I have been standing for a full game five days after surgery? Let's just say the doctor didn't recommend that.  But just as I felt during my trial, sports were my escape. I needed to be with my crew."
[caption id="attachment_8344" align="aligncenter" width="640"]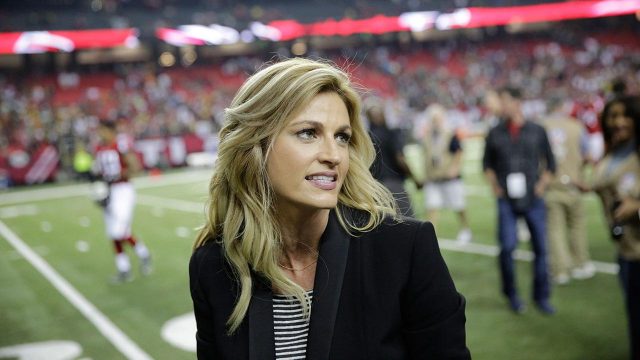 abc.com[/caption]
Two weeks after her November 11th surgery, Erin heard the words that every cancer patient longs to hear, "You are cancer free."
Her father told MMQB, "Such an incredible weight had been lifted off her shoulders.  I try not to think about what happened to her too much. But when I do, and I consider the enormity of what Erin has endured, I'll often just sit down and cry."
Erin Andrews' dedication to her work and her strength through her battle with cervical cancer is phenomenal.
Erin Andrews was one of the 12,990 women that were diagnosed with cervical cancer this past year, according to Cancer.net.  In light of it being Cervical Cancer Awareness Month, it is important to know how to prevent cervical cancer and recognize its symptoms.
[caption id="attachment_8345" align="aligncenter" width="640"]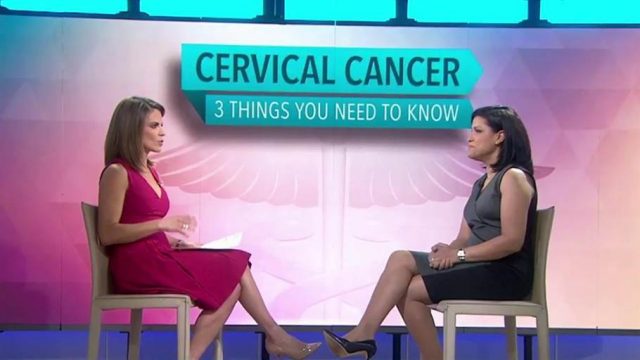 today.com[/caption]
In an interview with the Today Show,  gynecologist Dr. Evelyn Minaya emphasizes the importance of routine screenings and getting vaccinated for HPV to prevent cervical cancer.  She reveals that common symptoms of cervical cancer are bleeding after sex, irregular menstruation, and foul vaginal odor.
Erin Andrews was a person that caught her cervical cancer early.  Learn from her story by checking with a doctor if you have any of the symptoms above.