Try out the gym, they said. It'll be fun, they said.
Chances are that you're either a loyal member of a gym, or know someone who is, because let's be real— most people have at least one designated gym junkie in their inner circle. If you don't, it most probably is you. However, the gym is certainly not for everybody and while it may have its perks, a gym membership is not the only way to get that summer bod.  Not everyone enjoys working out in an environment surrounded by intimidating machines, and sometimes even more intimidating people.
There are a myriad of reasons why you may be tempted to skip out on a gym membership. You may be avoiding the extra expenses, overcrowded room of exercise equipment, or simply an ex-boyfriend that frequents your local gym. Whether you're looking to mix things up by spending a few days outside the gym, or you simply need a little new new to get you back into the groove, these exercise alternatives are a sure-fire way to work up that extra sweat.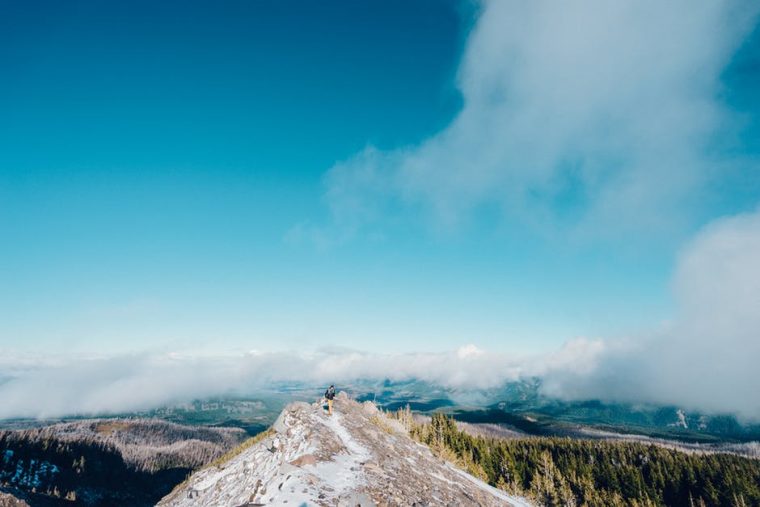 Get your hike on. A great way to stay in shape is to take advantage of Mother Nature in all its glory, as it has the ability to make you forget you're technically exercising. While you trek up the mountain, your entire body is engaged, giving you the ultimate full body workout you have been looking for. As we get further situated in Spring, the sun is shining, the birds are chirping, and the picturesque mountains are more inviting than ever.
Hiking hits certain muscles in the body that the seemingly all powerful machines at the gym do not target. For a breath of fresh air, check out these five trails in Los Angeles that everyone can enjoy. Lace up your Nikes, rub in some SPF 50 and get in a heart pumping workout, while enjoying the beautiful outdoors. Other popular spots in Los Angeles include Runyon Canyon Park, Temescal Canyon, and Griffith Observatory Trail.
Try out Beach Body, for an intense at home full-body workout. Programs such as Beach Body allow you to stream an assortment of programs from your phone to the television set. This is a great option for those who are looking to get in an intense workout, but do not seem to find the time to head to the gym. In addition to the flexibility and convenience it provides, you will never find yourself losing momentum or reaching complacency in your workout. Beach body includes the option of many different workouts, including Hip Hop Abs, P90X, Brazil Butt Lift, and INSANITY. You can do your workouts anywhere, at anytime- and you never need to step into a gym.
Three words. Outdoor Sporting Activities. If you are an adventure seeker by nature, rock climbing, kayaking, and jet-skiing are all great ways to stay active while enjoying the outdoors. Although most gyms offer indoor rowing machines, why not take the extra step and make a day of it with actual rowing. Spending a Sunday at the Marina is a great opportunity to get an excellent upper body workout, while spending some quality time with friends and family. Another great option is to get your adrenaline rushing at an indoor rock climbing facility. Most of these facilities also provide acro-yoga classes and other unconventional forms of fitness to get your heart pumping.
Video Games. Yes, you heard right. In more recent times, video games have channeled a new range of interactive gaming with the advent of Wii Fit, Xbox Kinect, DDR, and Playstation Move systems. Nike + Kinect Training for Xbox provides you with your own personal, virtual trainer in the comfort of your living room. The games record your progress and focus on strength training, toning, and weight loss. If you are a Nintendo Wii owner, you will be pleased to find that you can get your body moving with both Dance Dance Revolution and Zumba Fitness, both of which are great ways of getting your daily cardio.
Join a specialized fitness program or studio to keep motivated. Don't let your dislike of the gym get in the way of having a killer workout. For those who need the extra push and are not as self-motivated as they would like to be, joining a specialized workout program may do the trick. The options are endless, from Yoga Works, which offers an assortment of different classes that target the full body, to Crossfit, for those who are looking for an extra challenge.
While the prices may vary from program to program, in some cases there are certain programs that offer work-exchange where students can earn free classes in exchange for basic work at the studio. Working in a group setting pushes you out of your comfort zone to attempt workouts you may not encounter on your own, as well as keeping you from getting complacent with your workout regime. You may even learn a new skill while you're at it.