While cooking dinner, many people focus solely on the main dish and seem to make side dishes an after-thought.  Now, thanks to the internet, there are so many delicious side dish recipes out there!  Here are a few that may steal the show at your next dinner party.
Sweet Potato Fries
This healthy side dish is the perfect combination of savory and sweet!  This dish will not only win you favor with your adult guest, but your younger guests as well.
[caption id="attachment_8797" align="aligncenter" width="1000"]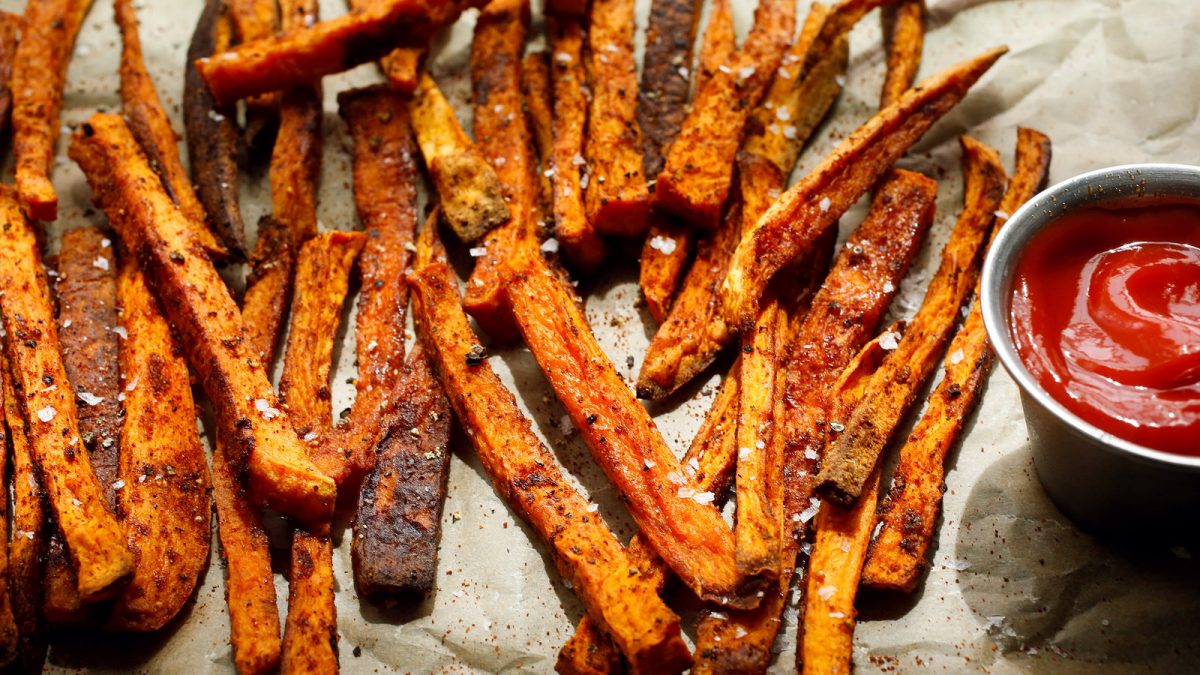 cooking.nytimes.com[/caption]
What you need:
2 Sweet Potatoes
Olive Oil
Salt
Pepper
Garlic Powder
Parmesan Cheese
Cooking Prep:
Set oven temperature to 425 degrees
Wash and peel the two sweet potatoes
Cut sweet potatoes in half and then into "french fry like" strips
Cooking Instructions:
Spread sweet potato fries on a 12 x 17 baking sheet
Once you are done cutting your fries, pour a generous amount of olive oil over fries
Use hands to mix fries and olive oil on your baking sheet
Wash your hands, then season fries with salt, pepper, and garlic powder
Put in oven and set timer for 20 minutes
Check fries at 20 minutes if they are done(Some ovens require a little more cooking time)
Once the fries are cooked, let cool for a minute
After about a minute, move sweet potato fries to a serving plate and sprinkle parmesan cheese on top.
Eat up and enjoy!
Goat Cheese Balsamic Salad
You will be adding this to your list of favorite salads and vegetable dishes!  This dish has so many amazing flavors and textures that will have your guest going back for seconds.
[caption id="attachment_8796" align="aligncenter" width="1000"]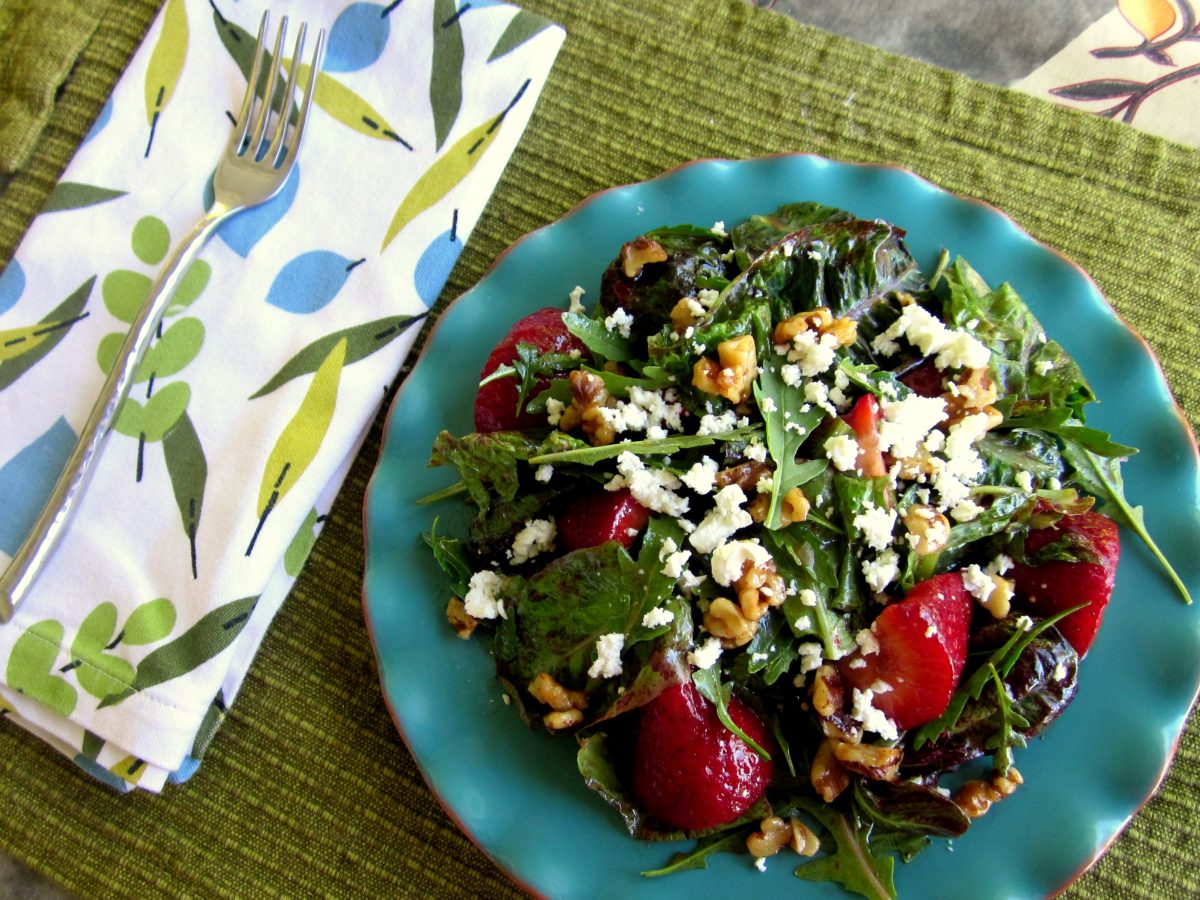 rusticgardenbistro.com[/caption]
What you need:
Spring Mixed Greens
Goat Cheese Crumbles
Candied/Sweetened Pecans
Craisins
Balsamic Vinaigrette Salad Dressing
Cooking Prep:
Crush candied/sweetened pecans
Cooking instructions:
Put spring mixed greens in a large salad serving bowl
Cover salad with your goat cheese crumbles, craisins, crushed pecans, and balsamic vinaigrette salad dressing (add as much or as little of the toppings as you want.)
Mix ingredients, serve, and enjoy!
*You can add sliced strawberries or apples if desired
Pan Roasted Tomatoes With Quinoa
This recipe from A Family Feast is a lite, savory, and packed with flavor.
[caption id="attachment_8795" align="aligncenter" width="1000"]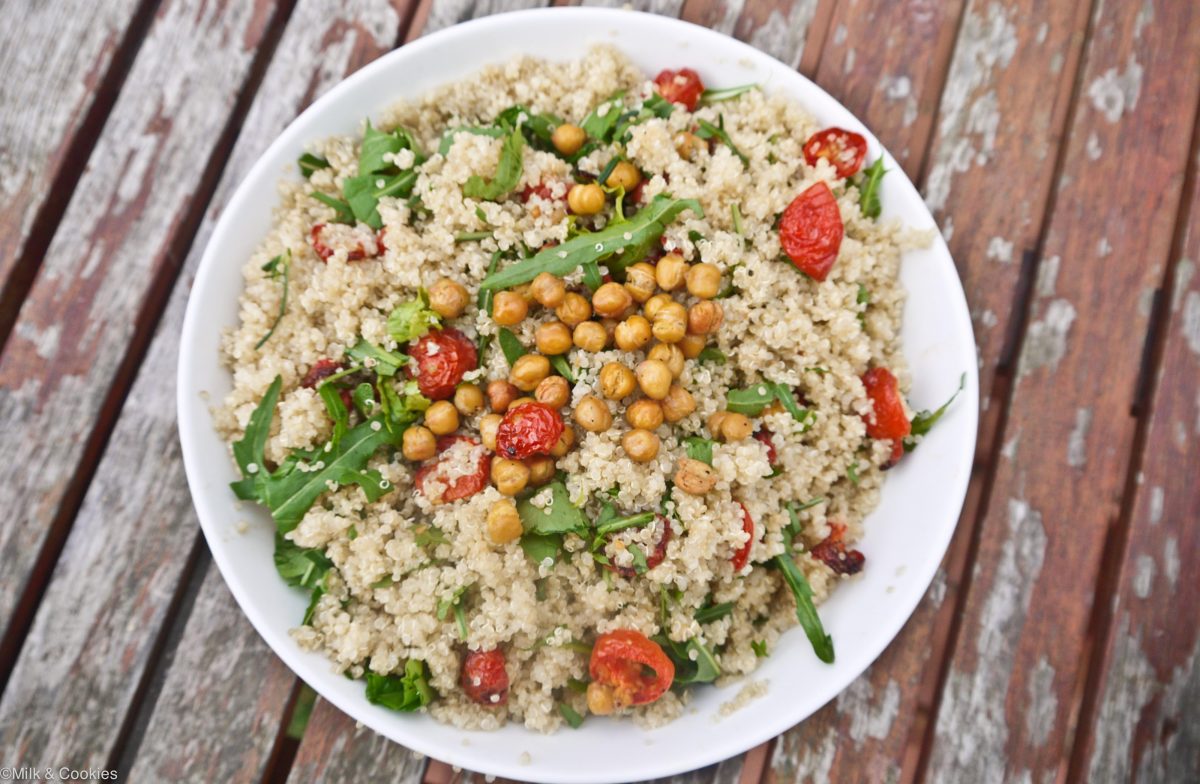 lovemilkandcookies.com[/caption]
What you need:
1 Cup of Quinoa
2 Cups of Chicken or Vegetable Stock
3 Tablespoons of Extra Virgin Olive Oil
2 Cloves of Garlic
2 Pints of Cherry Tomatoes
Freshly Chopped Basil
Freshly Chopped Parsley
Freshly Chopped Rosemary
Freshly Chopped Thyme
Salt
Pepper
Cooking Prep:
Chop basil, cloves of garlic, parsley, rosemary, and thyme
Cooking Instructions:
Combine quinoa and chicken stock in saucepan.
Bring the quinoa and chicken stock to a boil
Once it is brought to a boil, cover and reduce the heat to low.
Simmer quinoa for 15 minutes
Rest Quinoa
In a large pan, heat up olive oil on medium
Add freshly chopped garlic till it browns
Add in tomatoes and your freshly cut basil, rosemary, parsley, and thyme
Add the salt and pepper to ingredients
Reduce heat to a low temperature and cook for about 7 minutes
Make sure to stir ingredients for an even cooking of the tomatoes
Turn off heat and add quinoa to the pan with the tomatoes
Mix all the ingredients evenly
Serve and enjoy!
*You can add chickpeas or fresh spinach if desired
This Family Feast recipe can be printed on their website
No matter how old or young your guests are, these side dish recipes will leave them wanting more!