Attracted to a sport whose uniform allowed her to compete while still maintaining personal modesty standards, Ibtihaj Muhammad began fencing at the age of 12 and has come a long way since picking up her first sabre. This morning, she made history as the first ever U.S. athlete to compete in the Olympic Games while wearing a hijab.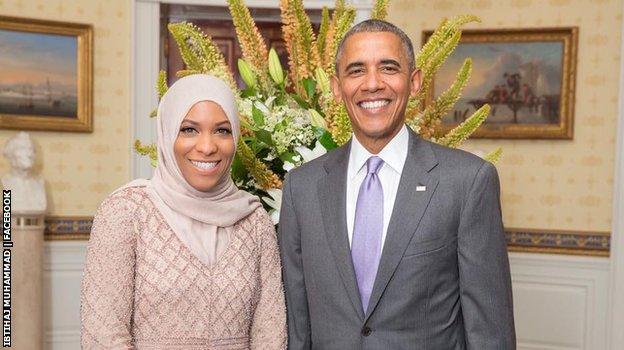 It has truly been an eventful year for Muhammad. She appeared on The Ellen Show and The Late Show. She was invited to the White House where she met President Obama during the festival of Eid, which marks the end of the fasting month of Ramadan. She was listed as one of Time Magazine's 100 Most Influential People. She gave First Lady Michelle Obama a fencing lesson in New York, at the start of the 100-day countdown to the Olympics, and now, she's going for the gold in Rio!
Garnering a lot of attention for her sport, she states, "I feel like I'm in this position and I have to use it, and I want to use it well. I don't want to waste my time as an athlete; I want to reach as many people as I can — just not with my skills within my sport but also with my voice."
[caption id="attachment_409" align="aligncenter" width="496"]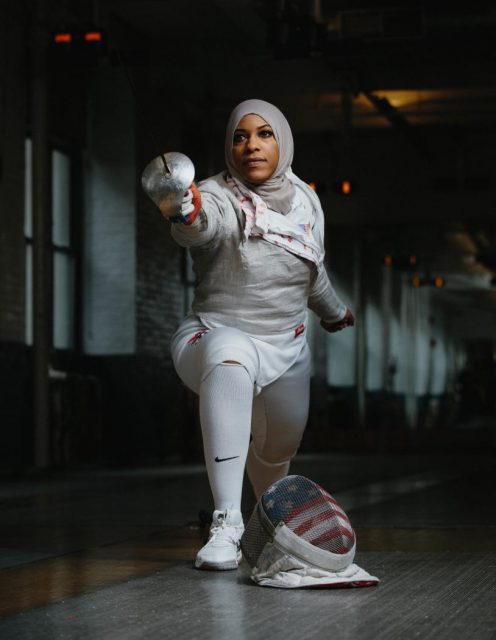 Daniel Shea for TIME[/caption]
Her recognition comes at an especially trying time for Muslims living in the United States. During an election year in which GOP front-runner Donald Trump called for a nationwide ban on Muslims from entering the country, Muhammad's presence on Team USA is not going unnoticed, and Muhammad hopes she can be an inspiration to her audience.
She states, "I am excited to challenge the stereotypes and misconceptions people have about Muslim women. I want to show people that we can not only be on any Olympic team, but on the US Olympic team which is the strongest of the world's teams."
https://www.youtube.com/watch?v=pg4qpdcmBA0
Muhammad goes on to say, "If I can be a source of inspiration to not just Muslim youth, but to other kids who have been told they don't belong because they were different… if I can encourage women to be active, then that is a positive thing." Her message is one we can all get behind, and we'll be hoping for a medal in Rio and change in the States along with her!