While riding a bike for the first time could be a very memorable experience, riding an electric bike (an e-bike) on the other hand for the first time is even more remarkable, in fact, it may feel like discovering a new superpower. This is because these battery powered e-bikes amplify the other qualities of other bikes. Hence, it is no surprise that electric bikes are taking the lead in the bicycle industry. Standard pedal bikes, on the other hand, are beginning to fall in prices and quantities produced yearly, and are being replaced by electric bikes.
E-bikes have made bicycle transportation faster and even less challenging; however, they are heavier and also more expensive than their standard counterparts. As an e-bike beginner looking to purchase your first e-bike, you have to consider several factors before making your choice. These include:
Understanding the different types of e-bikes and their styles
The type of battery and motor based on how you intend to use the bike
What features and components are more important to you
Finding a good bike fit based on your budget
The wide range of e-bikes available can make you quickly overwhelmed when trying to find one for yourself. In the beginning, there were no more than half- a dozen electric bikes companies to choose from, but more recently, the number has significantly risen. Hence you would need help in making the right e-bike choice. This article is intended to serve as a guide in helping you choose the perfect e-bike.
Types and Styles of E-Bikes:
As stated earlier, the wide range of e-bikes available could make a beginner trying to buy their first e-bike overwhelmed, thus causing them to end up with a bike that doesn't match their preference. Before choosing an e-bike, you have to note that the style you choose is dependent on several factors. These factors include: your preferred body position, the quality of the terrain you would be riding on as well as how much weight you would be carrying. That is, would you rather ride upright or sit aggressively when riding? Are the roads smooth or rough, and do you plan to have anyone onboard your bike? E-bikes come in different styles, which include:
The electric mountain bikes are great for trail and off-road riding, but this doesn't mean that they do not function just as well on the street. These bikes possess shock-absorbing features and better braking systems which make them a perfect fit for the intended rocky terrain. They are less expensive to purchase and are ideal commuter bikes. There are various types of mountain bikes, some such as trail bikes, mountain bikes, and fat bikes are best suited for both on the road and off-road riding. However, for more rocky terrains, the all-mountain, downhill, and park mountain bikes are best suited for serious downhill motorbiking.
Unlike the other types of mountain bikes, these bikes are better equipped to handle long drops and survive years of punishments. An example of such is the S600 Gray Carbon Fiber electric mountain bike with its Lankelesi customized seats, Shinamo 315Hydraulic disc brake and a recommended drop height of 16cm-185cm.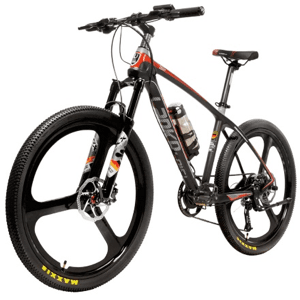 These bikes are poised to change the biking game. Distinctly known for their fat tire, the electric fat bikes are known for the extra comfort they offer. They help as confidence boosters as you cruise on a comfort level peculiar to this bike. On a snowy road, you want no other companion and the best part is that the tires provide you long service duration. Unlike other bikes, you can enjoy a safer commute due to the visibility the tires provide to other road users.
Cruise comfortably anywhere with your electric fat bikes from Cyrusherebike, with frame made of the durable 6061 aluminum alloy, you can move seamlessly on sandy or snowy terrains, as you can also enjoy the benefits of having smooth cushioning with our disc break features. Yes, you can glide through rough terrains without having to worry about shock absorption. You will find no better fit elsewhere than the X2000 Plus Speeds Folding Electric Fat Bike.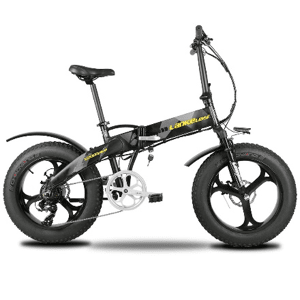 Electric road bikes which include racing bikes, endurance bikes, cyclocross, and touring bikes are best suited for pavement riding such as long-distance rides, tour racing, and even fitness riding. They are fitted with lightweight drop bar handles that curve downwards allowing you sit in an aerodynamic position. Hence, they are perfect for fast riding and let you use the different riding and hand positions you choose.
Racing bikes are notably faster as they are light, aerodynamic bikes with aluminum frames and a slimmed-down design. Its steep angles make turning these bikes very easy and fast. Endurance bikes resemble racing bikes, the only difference being that their frame geometry allows you to sit more comfortably, reducing stress on your neck and back. Their large width tires allow for even more comfort while riding. Despite being lightweight, cyclocross bikes are equipped with the toughness required for cyclocross racing as well as semi-knobby tires that make it easy to navigate terrain challenges. The sturdy frame of touring bikes makes them the best choice for long-distance racing.
The RS600 man gray or red black 700c electric Road Bicycle is the perfect road bike for you.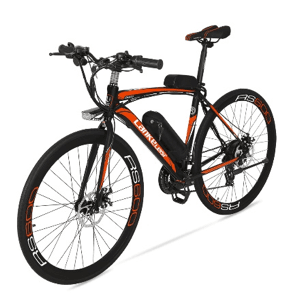 Enjoy comfort like you have never experienced with the City bikes. They were made with the thoughts of the hustle and bustle of different cities in mind and offer super easy navigation as you cruise along your favorite city. Find comfort in its super light and easy to release hub and the fact that it supports up to 150KG in weight.
With the city bike, leisure and fun is comfortably rolled on wheels. Looking for speed and performance with durability? Find it in the Cyrusher XF500 Electric Folding City Bike.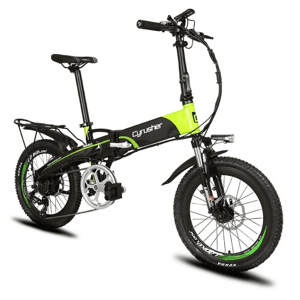 These bikes are designed to perform specific functions which differentiate them from other bikes. They include; carrier bikes which are specially made for hauling stuff around, and also folding bikes which can be easily folded and placed in a carrying bag.
Other styles of electric bikes include hybrid bikes, kids bikes, and women bikes.
Electric Bike Motors
The type, weight as well as location or e-bike motors determine how fast and how long you can ride them for. Before choosing an electric bike, it is necessary to ensure that you know your daily route and elevation gain to determine the motor and battery you need. The motor location on your bike affects the power of your bike during a ride, and also how natural and balanced your ride feels.
There are two motor locations for e-bikes:
Mid-drive motors: these are mounted to the bottom bracket of your bike. The torque sensors respond to how you push and rotate the pedals, thus providing an electrical assist. They are located at the bike's center of gravity allowing more stability for the bike. They are also good for hill riding. However, these mid-drive motors come with more working parts that often wear and tear, making them more expensive to acquire and maintain. These motors are best for cyclers, mountain bikers and commuters.
Hub-drive motors: these motors add power to the wheel in response to your cadence. The response is determined by sensors in the bike's pedals which send pedal power straight to the rear wheel. They are an economically cheaper option; however, the hub-drive motors are much tricky to service and reinstall. If you are on a tight budget, hub-drive motors are generally affordable and would be a perfect fit. There are two types of hub-drive motors; these are; direct-drive hub motors which run smoothly, quietly and very powerfully. And geared hub motors are much louder than direct-drive hub motor, however lighter and smaller.
Also, when choosing bike motors, it should not be a case of more watts more power as this is sure to allow the battery to die even faster.  The more powerful motors weigh about 11 pounds; smaller motors, on the other hand, weigh just around 6 pounds.
Choosing the Right Battery
The battery details of an e-bike must also be put into consideration when trying to buy an e-bike, especially as a beginner. You need to know the watt-hours (how long it can last for), the charge time (how long it takes to charge), the number of batteries needed (some specially fitted bikes use two batteries, providing the rider with a backup as well as the Mount style. A down tube or seat tube mounted battery would allow for more stability than batteries installed either at the front wheel or rear end.
Prices
Just like buying any other product, the price also has to be considered when purchasing an e-bike to ensure that it is ideally suited to match your budget. E-bikes come at different prices, from the least expensive to the most expensive, in this case, all that matters is that you get a bike that falls within your price range and at the same meets all your requirements. E-bikes use similar electric components; the only difference in the prices being the bicycle components itself.
Cheaper bikes lack the physical properties which more expensive bikes possess and as the price increases, the more sophisticated the bicycles become while still maintaining the same electrical component. Hence, there is an E-bike for every budget; all that is necessary, therefore is to find one that matches your needs.
There are also other considerations that should be made when choosing an e-bike style; these considerations include:
The pedal assists activation and levels: the performance orientation of an e-bike determines how responsive the motor would be to pedaling. The more levels of assist present in the bike, the more suited it would be for your speed and battery.
Integrated lighting: Front lights are required on bikes after dark as a way to make driving a lot easier. As such it is necessary that any e-bike you choose has these front headlights to allow you to drive better at night.
Integrated security
Component quality
Following these steps would serve as a guide to helping you in making a perfect choice for your first e-bike. Remember, you do not have to break the bank to buy a bike, all you have to do is find one within your price range using these requirements, and you can begin having a great time on your e-bike.
You absolutely have no need to scour the internet all day looking for a place to find the perfect bikes. At Cyrusherebike, we have made it our duty to put the best of the bunch out there and with our listed specifications, you can at one glance find everything you need in a bike!