Last night was the final state dinner for President Barack Obama and First Lady Michelle Obama and they did not disappoint. As dapper and handsome the President looked the real winner of the evening was the First Lady. Michelle stunned in a magnetic rose gold Atelier Versace gown that left mouths gaping.
[embed]https://www.instagram.com/p/BLuXVdQD0b\_/?taken-by=versace\_official\[/embed\]
Her gown choice for the last state dinner follows a history of beautiful wardrobe choices. Whether she's on the cover of a magazine, hosting White House dinners, or traveling abroad, FLOTUS has masterfully conquered the art of political dressing. The dress was not a random choice on the First Lady's part. The Obama's used the largest and last state dinner of their tenor to honor Italy, a European ally that is one of America's most trusted when taking a stand on important world issues. The President and the First Lady hosted Italy's Prime Minister Matteo Renzi and his wife Mrs. Agnes Landini.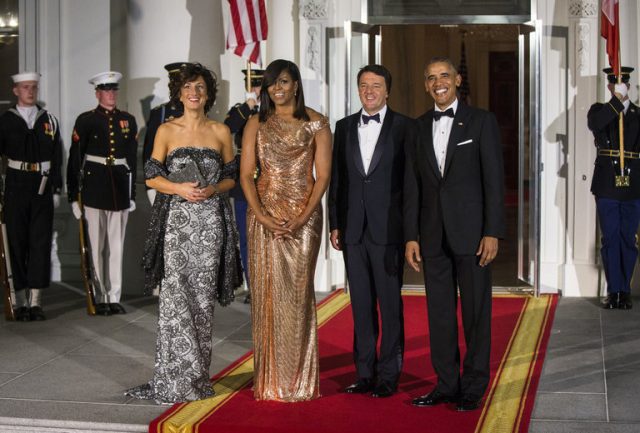 So why Versace? Of course Atelier Versace is one of Italy's most famous designers and is a success story in itself. The NY Times explains:
The dress, after all, was made of rose gold … chain mail. As much as it was gracefully cut and draped, it also spoke of armor and female strength, of the need to gird yourself to fight for what you believe in. And it was designed by Donatella Versace, a woman who was famously thrust into one of the most difficult situations of all: having to take over and preserve the company founded by her brother after his murder in Miami. And who, despite a fair number of doubts, has ultimately triumphed — in part by transforming the aesthetic of her company from one built on the power of sex to one built on the power of self.
The dress itself is worth a reported $12,000 and throw in the fact that Ms. Versace designed the dress specifically for the First Lady and you get a priceless piece of not just art but history. It will be a sad day when we have to say goodbye to the Obama's.