A walk through the crisp cool air illumined by the autumn Sun is augmented by the changing color of the leaves. The dull and ordinary green foliage is transformed into a broad range of varying shades of red, orange, brown, and yellow. For many, it can be the culmination of the entire sufferings of the previous seasons rewarding the individual for their patience. The cold, wet winter, followed by the stormy, humid spring, replaced with the hot, muggy summer, only to be finally rewarded with the perfect and relatively dry temperate fall season. Then, if that person resides in or travels to the right place, one can be additionally gifted by the amazing color show that will enchant their visual sensations. It is the creation of a new world that occurs right before their eyes. The golden sunlight plays off of the dry but colorful forests as one is reminded of the consistent changes that this planet offers its inhabitants.
[caption id="attachment_11712" align="alignnone" width="760"]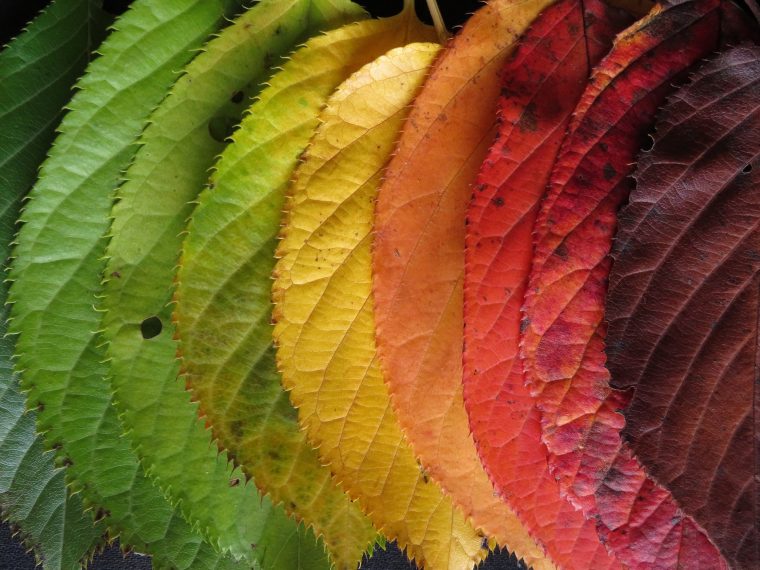 Pixabay[/caption]
But where and when should one go to see these delightful performances of nature?
The North East of the United States has the most brilliant leaf changes as they reach almost fluorescent colors. However, other regions have beautiful color changes as well, but they may all have a different time when they begin to turn or reach their peak. For the North East, it will usually change between late September to mid-October, depending on what elevation and area it is. Parts of Vermont, New York, and Maine will begin in late September while other parts will stretch into October. The other North Eastern states will start sometime in early to mid-October.
The other area that offers a tremendous spectacle of dazzling foliage with a spectacular back drop is the Rocky Mountains. These Rocky Mountain settings begin their change in September with their peak being around the third week.
The Midwest and North West which are not as exceptional, but still beautiful, occur through mid to late October.
[caption id="attachment_11713" align="alignnone" width="640"]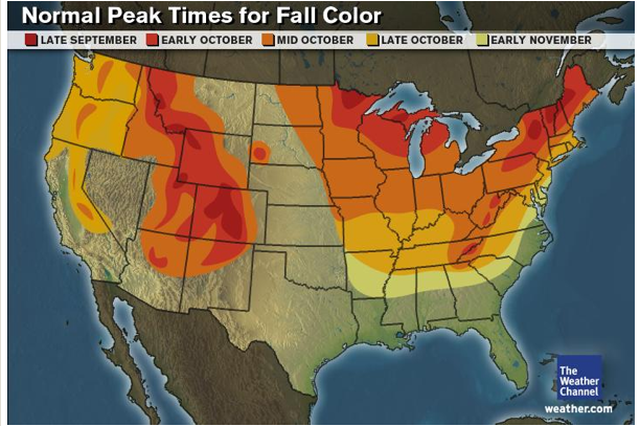 Via The Weather Channel[/caption]
Here are some tips as you plan your autumn trips-
Of course, one of the best places to go is Vermont, but this can be hard for many to book and reach due to distance and pricing for the season. So a few alternatives to the North East where one can have a ton of fun would be Lancaster, PA, and New Jersey. Lancaster would be my first pick as it has excellent autumn activities for the whole family, but New Jersey can offer a group many options as well. In New Jersey, you can go to the Delaware Water Gap National Recreation Area or travel to the Millville-Bridgeton region that possesses a Museum of American Glass, two-thousand preserved Victorian, Colonial and Federalist buildings, a Swedish farm and a zoo. One can even make reservations for the beautiful Ye Olde Centerton Inn, where they can have a delicious dinner in one of the oldest still operating inns in North America.
In the Southeast I would recommend the Blue Ridge Parkway.
If heading to the Rockies, then my primary recommendation would be Grand Teton National Park which offers the most stunning backdrop to the changing of the leaves. [caption id="attachment_11710" align="alignnone" width="760"] Pixabay[/caption]
However, this can be harder for some to reach due to its location thus my alternative suggestion would be Colorado which can be much easier for many to reach. Here I have two recommendations the first is the San Juan Skyway where you can hit Durango, Telluride, and Ouray. The second would be Estes Park which can be your base camp into Rocky Mountain National Park. Make sure you are traveling in September for these Rocky Mountain locations and have an autumnal adventure.