As a mom or parent in general, your baby's health and comfort are one of your top priorities in life.
Not only is a comfortably and healthy baby a happy baby, but a baby that is uncomfortable or unhealthy will throw more tantrums and have more trouble than a baby who is not.
One way that mom's make daily living a bit easier for their little ones is by using bamboo products whether it's bamboo diapers or bamboo socks. Yes, you heard it right. Now, you may be thinking that these diapers look like cut up bamboo shoots, but bamboo diapers look just as normal as traditional cloth or disposable diapers. The difference, however, is astonishing.
In this article, you will learn more about bamboo diapers and bamboo disposable diapers, how they are made, what makes them a better option than traditional diapers, and where you can find the best bamboo diapers on the market today.
HOW ARE BAMBOO DIAPERS MADE?
Most bamboo disposable diapers are made with ground up bamboo. The bamboo is then combined with a number of oils and other raw materials to create the diaper. The diaper's side, front, and back panels are usually made from the bamboo, which provides a breathable and comfortable wear for your child.
Bamboo is turned into Rayon fabric by using sodium hydroxide. This is a harmless chemical that won't have any effect on the health and safety of your child.
WHAT MAKES BAMBOO DIAPERS THE BETTER OPTION?
Now for the real reason you clicked on this article: why should I choose a bamboo disposable diaper over a traditional diaper? Well, there are a lot of reasons why bamboo diapers are superior to the traditional disposable diaper you can find easily in the supermarket.
To begin, bamboo diapers are soft and much more comfortable than traditional diapers. This is all thanks to the composition of the disposable diaper. Perfect for children with sensitive skin or those prone to diaper rash, bamboo diapers will keep your kids sleeping in comfort throughout the night.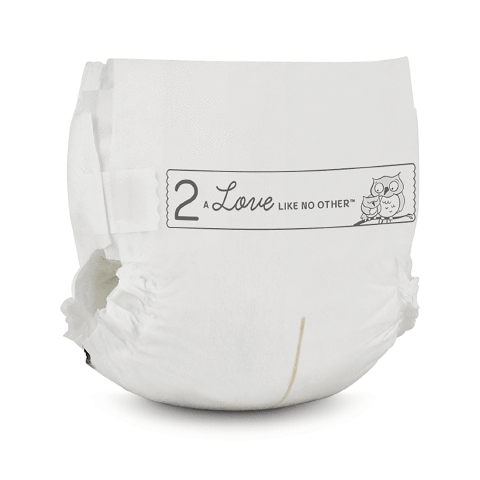 Bamboo also makes for great biodegradable diapers. Traditional diapers are packed with chemicals that aren't safe for the environment, even if they are absorbent. When you toss your child's used diaper into the bin, they then find their way into a landfill, where they will live until they decompose. According to LiveStrong.com, it can take up to 500 years for a traditional diaper to decompose. However, with bamboo biodegradable diapers, no harmful materials are released during the decomposition process and, because the diapers are made from natural raw materials, they decompose much faster.
Bamboo diapers are more absorbent than regular diapers, too. This is all thanks to bamboo's natural ability to absorb a lot of water weight. Unlike traditional diapers that use chemicals and absorbing agents, bamboo diapers are naturally able to absorb more!
In addition, bamboo diapers will fit your child better than regular diapers will. Especially great if you have an active baby who loves to crawl or run around, bamboo diapers are extremely flexible and can shape to your child's body and provide a comfortable, long-lasting wear.
Also, bamboo diapers are moisture wicking and temperature controlled, meaning the diaper will keep your child nice and cool in the hotter summer months, but will keep your child warm in the winter.
Lastly, and probably the most important, is the ability that bamboo diapers have to decrease the likelihood of infection and other issues related to bacteria. Bamboo is a natural antibacterial and is also hypoallergenic. This can help cut down on the risk of rashes and allergies and can help keep your baby as clean as possible. In addition to keeping your child clean, bamboo disposable diapers can also help eliminate some of the odors that may leak through when your child is wearing a traditional disposable diaper. The antibacterial properties help to kill odor-causing bacteria, too. So, not only will your child be healthier when using bamboo diapers, they will also smell better!
WHERE YOU CAN FIND BAMBOO DIAPERS
Now that you know the incredible benefits of disposable bamboo diapers, you are probably ready to try some for yourself. But, how do you know where to find the best diapers on the market?
Bambo Nature diapers are the best bamboo diapers on the market today. The company, headquartered in Denmark, sells a number of bamboo-based items as well as others that all work in harmony to help keep your baby healthy, happy, and comfortable. Here are some of their products:
DIAPERS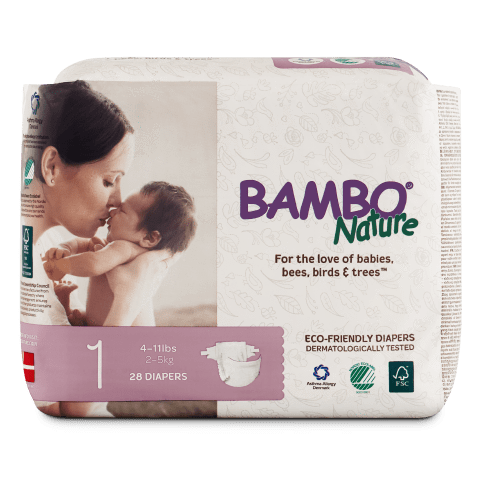 Of course, Bambo Nature diapers are among the most popular purchase online. The diapers have a five-star review with more than 805 reviewers. These diapers are biodegradable and free of chemicals and are made up of three layers and a super-absorbent core to help keep your baby clean and dry all throughout the night.
The diapers come in sizes 1 to 6, and there is a convenient and easy-to-use size chart on the website. You can also choose between a bag, a box, and a case of diapers. Each diaper size comes with a different amount of diapers. Prices range between $12 and $78, depending on the size and the number of diapers you purchase.
TRAINING PANTS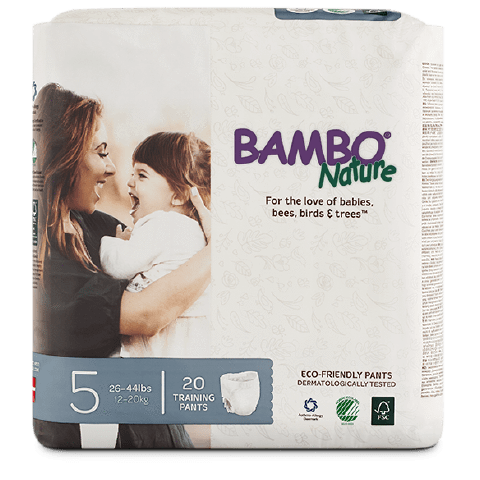 If your kiddo is ready to graduate from the diaper and into Training Pants, Bambo Nature has disposable, chemical-free training pants for toddlers. The pants are flexible and have a number of layers, just like the Bambo Nature diapers.
These come in sizes 5 and 6 with a size chart online for easy ordering. You can order a bag or a case of these, but the number of training pants you will get depends on the size and the number you order. You can purchase these for between $12.75 and $60.75 online.
WIPES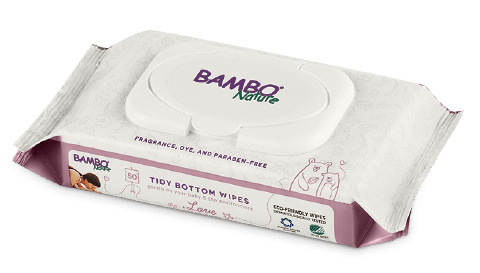 Give your child extra comfort and use Bambo Nature Wipes. These wipes are perfume, dye, and paraben free. They are perfect for babies with sensitive skin, as they are hypoallergenic. You can get a 50 count of the wipes for only $4. A 1,200 count is also available for $75.
SKIN CARE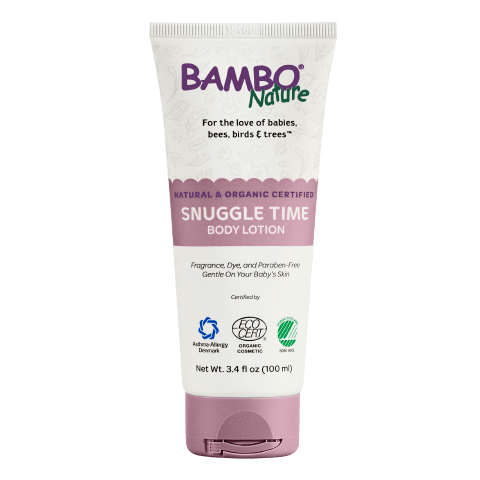 Baby skin is very sensitive. Too much or not enough moisture on the skin can lead to skin irritation and even skin disorders. So, it is of the upmost importance that you use only the best skin care products on your child.
Bambo Nature offers a variety of skin care options for your children. These include baby lotion, bath oil, sunscreen, hair and body wash, and the company's signature "soothing cream." The products are dermatologist tested and free of perfumes, parabens, and dyes, so it is perfect for any child.
As you can see, Bambo Nature has a number of eco-friendly, natural products to offer. All of their products are highly rated.
Reviewer Emy W. said, "we have used Bambo for two years. Love the eco-friendly aspect and it works great for our son, who has eczema. No leaks, cute design, and affordable."
And another reviewer, Tracy G., had a lot to say about the amazing diaper.
"Prior to my delivery, I researched various diapers on the market. To my surprise, many baby products are laden with harmful chemicals," she said. "Fortunately, I have found Bambo Nature. I have been using these diapers solely for some time now. I love that it is eco-friendly. Since my little one has been wearing them, there have been no rashes, redness, or other skin irritations. I believe this brand is good quality. If we as parents are going to spend our hard-earned cash, why not let it be on a company that cares about the health and safety of our children?"
MORE ABOUT BAMBO NATURE
Bambo Nature is a family-owned business dedicated to providing eco-friendly baby care products to keep your baby healthy, happy, and comfortable. The company has been continually working at this mission for more than 30 years.
Within that time frame, Bambo Nature diapers became the first in the world to be certified with the Nordic Ecolabel and the EU Flower ecolabel. These establish the diapers as completely eco-friendly. The diapers are also certified by The Asthma and Allergy Association Denmark, The Forest Stewardship Council, ECOCERT, and are also dermatologically tested and approved for use on children with sensitive skin and atopic skin diseases.
Although Bambo Nature has won a number of awards, the most recent was in 2017 when the diaper on Babylist's 2017 "Must Have Diaper" award, which was decided after Babylist.com surveyed thousands of parents to ask them their favorite diaper, and Bambo Nature won!
CONCLUSION
So, now that you know why bamboo disposable diapers are a much better option, and you know where you can find them, it's time to order!
For more information, or to continue to browse the purchasing options for diapers, training pants, skin care, and baby wipes, visit BamboNatureUSA.com today. You'll be so glad that you made the switch, as most customers say that they never looked back after using bamboo disposable diapers.