The COWAROBOT R1 helps free your hands as you travel through airports and new cities. Not only is the R1 able to travel right alongside you, it does so while also intelligently avoiding obstacles in its path. Each R1 comes with a customized bracelet for the user to wear while using the suitcase. It is designed to travel within an arm's length distance to this bracelet.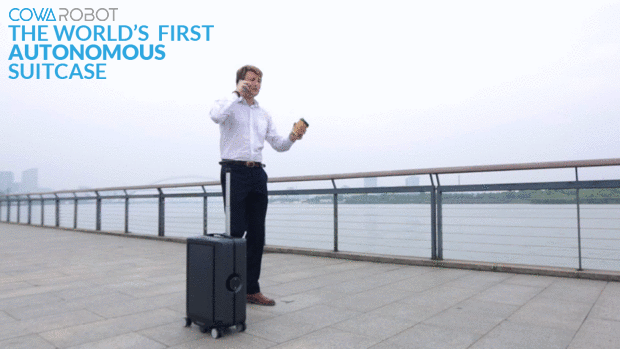 If you'd rather wheel the suitcase manually, it has the ability to switch from Autonomous to Manual mode at the touch of your hand. The R1 is capable of achieving speeds of up to 4.5 miles per hour and can travel across all types of terrain. If you're already impressed, there's even more to gawk at. Double tapping your bracelet will activate the device's Find Me function, and your RI will make it's way over to you. Also, its GPS function allows you to conveniently locate your luggage on your app, should you forget or misplace it.
Currently, on Indiegogo, the R1s run for $430, but the early bird option has almost sold out. Once it does, customers can choose between the $450 and $500 options.
Traveling can be really stressful sometimes, the COWAROBOT R1 promises to make it "less of a drag."