Coconut Oil— otherwise known as the be all, end all of all oils and body butters. People are practically singing from the Whole Foods rooftops, "Rub it on your hair, your skin, your relationship, and your bank account!" A natural skin moisturizer, coconut oil is almost too good to be true with its incredible properties. From reducing cellulite and stretch marks to rejuvenating dry skin, there are a myriad of benefits to incorporating the magical product into your everyday routine.
Not the typical health fad, coconut oil is the Beyoncé of body butters— and not just because it will have you feeling "flawless." That is only one of the perks to using the natural oil. Like the Queen B herself, there is not much coconut oil cannot do. With a single jar, you can reverse your cavities, remove your makeup, and moisturize your skin, as well as relieve the sting of a fresh sunburn.
Gwyneth Paltrow gargles with it for whiter teeth, Mandy Moore cooks with it and then leaves trace amounts on her hands (to keep them feeling soft), Kourtney Kardashian uses it to make hydrating hair masks, and Kelly Osbourne has featured it on the "Wellness Wednesday" segment of her blog as a natural face highlighter and "all-in-one GIFT FROM THE GODS!"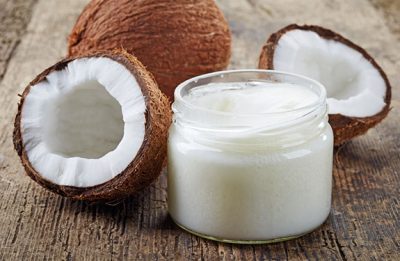 From celebrities with soft skin to sanctifying self care treatments, it is obvious now that the felicitous fad, is no fad at all. A fantastic foray into raw, natural remedies, the oil can also be used as a substitute for recipes that call for melted or soft butter. Simply use a 1 to 1 ratio (half a cup of coconut oil for half a cup of butter).
Uses include but not limited to:
Hair and Nail Growth Make Up Remover (Emma Stone Endorsed) Alternative to Vegetable, Canola Oil, & Butter Massage Oil for Newborns Replacement for After Shave Mixed with Brown Sugar for an All Natural Scrub
Dubbed "the drugstore in a bottle," it has been featured in medical and biological journals published around the world for its wondrous properties. While the long list of benefits have lead skeptics and naysayers to doubt the multifaceted uses of coconut oil, there are tens of thousands of people around the world who can attest to its benefits.