There are a lot of get-skinny-fast programs and options out on the market today. There are pills, shakes, devices, lasers, weights, contraptions, the list goes on and on. With the shift in society's views on more natural and less chemically enhanced or formulated options it is no surprise that The 21 Day Fix Workout Program has attracted the attention of many who are struggling to lose weight. The 21 Day Fix addresses both exercise and eating. It monitors your portions but not in a way that other diets do. Instead of saying have that salad but have half the salad it actually goes further and breaks down all the components that go into said salad.
Whereas before one would make the suggestion of eating less to lose weight, The 21 Day Fix tackles the different kinds of fats you are allocated in each food group so that you optimize the results of the eating side of losing weight. Basically it is breaking down the art of eating even further. You are given 6 kinds of containers: 1 cup for Veggies, 1 cup for Fruits, ¾ cup for Protein, ½ cup for Starches and Carbs, 1/3 Cup for Cheese, Nuts, Avocado, and Coconut, and 2 teaspoon cups for oils and dressings, you also get a Shakeology cup for drinks. The containers are color coded so that you know what container is for what group.
[caption id="attachment_708" align="aligncenter" width="352"]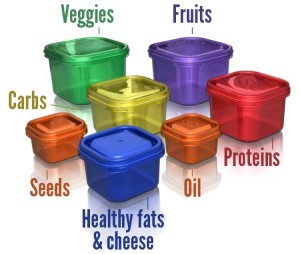 image: followholly.com[/caption]
The one part that you will have to really pay attention to is when you must figure out your daily caloric intake. This is the key to the success of the eating program. The formula goes as such: multiply your current weight by 11, and you'll get your baseline. You must add your baseline to 400 times your fix calorie burn to get your caloric need. Multiply your calorie deficit by 750, and subtract that from your caloric need to get your target calories. Seem confusing? That's because it's a little bit of a mouthful. To make it more understandable take a look at the table below.
[caption id="attachment_711" align="aligncenter" width="549"]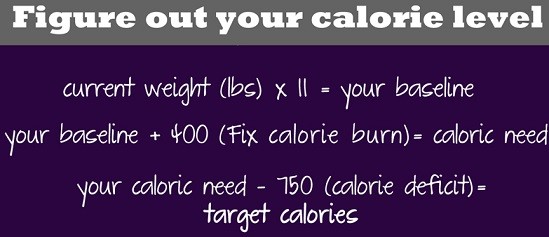 image: followholly.com[/caption]
The target calories will then allow you to figure out the number of containers and teaspoons that you must select. The table below helps you do that.
[caption id="attachment_712" align="aligncenter" width="550"]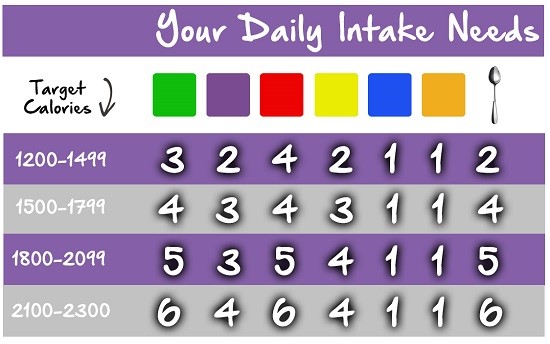 image: followholly.com[/caption]
Although this program seems simple, I can see that this portion although not rocket science may be a little annoying to do for some people. Many of us want to avoid anything that calls for taking more time out of our day in order to handle it. Being told how much you need v. you needing to figure it out thus investing more time in the process might be a deal breaker for some.
Some pros of the meal plan are that it seems to be pretty flexible. You can eat whatever you are craving out of the containers you have. Most times the meals (in this case the containers) are sequenced, but the 21 Day Fix allows you more freedom. One great thing is that if you are a caffeine-fiend and cannot surmise a plan that prohibits you your daily intake of your sweet aromatic nectar you are in luck. On this program you are allowed to drink both coffee and tea.
Onto the other half of the program, along with an eating plan The 21 Day Fix needs you to follow a 21 day fixed workout schedule. The 2 DVDs that come with the kit provide you with 6 workouts. The 30 minute sessions are meant to rotate with each day focusing on working on a specific body part. The first 2 weeks you must do one 30-minute workout per day. The last week you are suggested to work out once in the morning and once at night.
[caption id="attachment_713" align="aligncenter" width="671"]

image: followholly.com[/caption]
It is fantastic that the duration of the workouts are short. A quick 30-minute exercise can easily be fit into someone's busy schedule but the number of the types of workouts are a bit disappointing. It seems that your experience with each workout is important so they have tailored each to be the safest and least damaging of routines.
Looking through the reviews, there are noticeably many opinions and descriptions of its success or in some instances lack-there-of. Not surprisingly many have trouble with figuring out the calorie intake. It is important to note that although many figured it out it took a little bit of digging around on the internet for people to find charts that simplify the instructions.
Although there are comments about the frustration of that step of the program, there are many positive experiences that are described. Niel exclaims:
I completed the 21 day fix and lost 16lbs and even better I got my abs back. The only problem we experienced with the 21 day fix was that it was too much food for one person, but we downsized the portions and got great results! Going for another run in two weeks time!!!!
There are also many people who have not tried it but are excited to. People like Jodi C say:
I ordered the 21 Day Fix yesterday and I cannot wait to start it. I am not even close to a beach body so I know that I will be doing the 21 Day Fix more than a few times! I bought it for myself as a birthday present to myself. I need to lose a lot of weight and I believe that this will get me there.
Unfortunately, there usually isn't a follow-up post explaining if they were happy or not after trying The 21 Day Fix. For the most part the program seems to be simple, flexible, and minimally-invasive when it comes to it taking up a lot of time out of your schedule. As far as diet and exercise programs go, the 21 Day Fix seems to be worthy of a go. If you have been trying to practice healthy dieting, The 21 Day Fix might work for you.