Who can turn the world on with her smile? Mary Tyler Moore, that's who! But today the world smiles a little less as it says goodbye to a TV legend. She was born in Brooklyn on December 29, 1936, and relocated with her family to California in 1945. She was married in 1955 and had her first child soon. Mary received her opportunity on TV when she appeared as a dancing appliance on commercials that aired on the television sitcom "The Adventures of Ozzie & Harriet." Her first major role was on "The Dick Van Dyke Show" where she played Laura, Rob Petrie's lovable wife. One can still hear her whine, "Ohhh, Rob!" She then played in a few movies but decided to return to TV under her production company MTM. You know the one with the big cat- "Meow." This enterprise would go on to produce many hit television shows including: The Bob Newhart Show, Rhoda, Lou Grant, WKRP in Cincinnati, Remington Steele, Hill Street Blues, Newhart, St. Elsewhere, and also her own hit, The Mary Tyler Moore Show.
[caption id="attachment_8368" align="aligncenter" width="400"]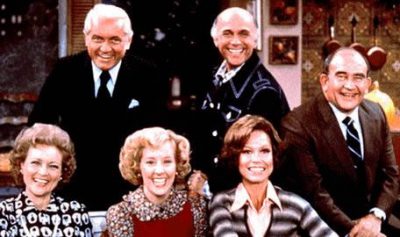 via sitcoms online[/caption]
[caption id="attachment_8370" align="aligncenter" width="265"]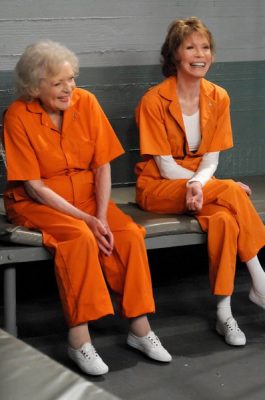 via accesshollywood.com[/caption]
This show broke all the bounds as a career woman who was independent yearned to make an impact in the world of the news media. Many other actors got a boost to their careers on this show including Betty White, Ed Asner, and Ted Knight. However, Tyler's life was filled with tragedies no matter how big she smiled. She was divorced twice, and her son accidentally and fatally shot himself with a shotgun in 1981. She struggled with alcoholism and eventually develop a brain tumor which was removed in 2011. Since her Oscar nomination in 1980 for her role as Beth in Ordinary People, she starred in an array of cameos for in Television programs with the most recent starring alongside Betty White once more in Hot In Cleveland. Mary Tyler more was 80 years old, and it looks like she made it after all!
[caption id="attachment_8369" align="aligncenter" width="400"]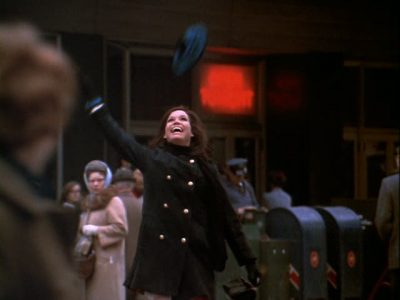 via Salon.com[/caption]