Celebrity Cruises, one of the top luxury cruise lines, has done it again by reinventing the cruise ship experience. Their new ship the Edge has remarkable new features that fuse art, luxury, and relaxing innovations. It is hard to figure out where to start on a ship that "leaves the future behind."
We should probably commence with the most prominent feature, and that is the Magic Carpet Deck will leave you breathless as you enjoy yourself and relax while you ascend and descend to the water and the top deck and back again. This deck reminds me of an elevator that merged with a lounge. They claim, "The Magic Carpet is designed with comfortable seating, a full bar, and space for live music performances, so it truly is a destination itself on Celebrity Edge. But depending on the positioning, its mood and function changes—providing exciting new venues, incredible visual perspectives, and a distinct experience on every deck it visits."
[caption id="attachment_9467" align="alignnone" width="760"]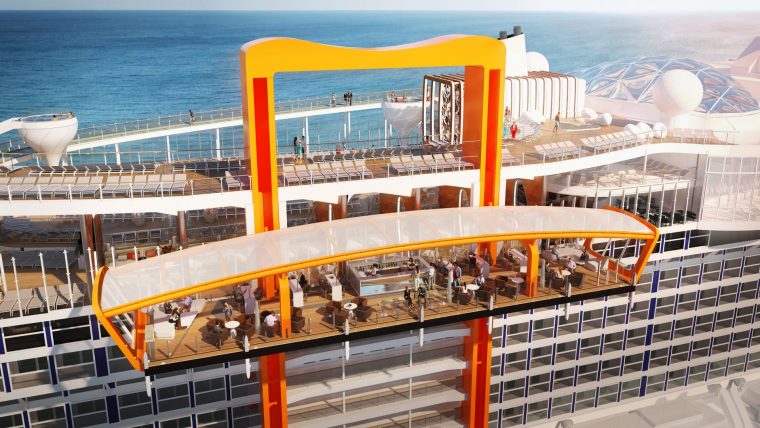 via Celebrity Cruises[/caption]
Next is the Resort Deck. It is surrounded by an asymmetrical pool deck with two story martini hot tubs and private high-ceilinged cabanas that overlook the sea. Additionally, there is a Rooftop Garden, where you can watch a movie, have a picnic, or dance underneath the celestial ceiling of stars. There are also the jogging track and the solarium which is a pool for adults only. Above the pool bar is a constantly changing mirror installation that perpetually creates a new work of art. At night while the Sun appears to take its rest in the sea, the cabanas will light up, and you can enjoy them as intimate spaces while drinking cocktails and viewing the moonlit ocean.
[caption id="attachment_9468" align="alignnone" width="760"]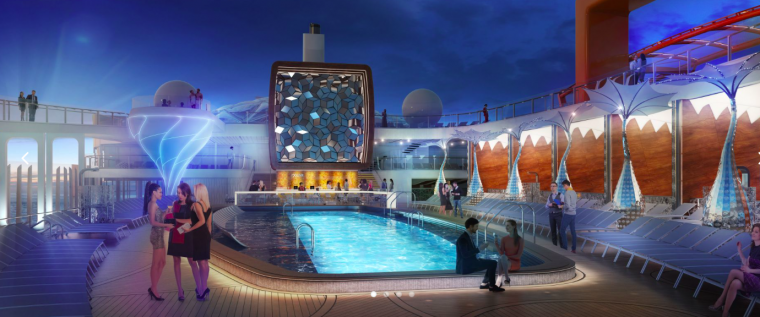 Celebrity Cruises[/caption]
The next and maybe most unusual feature are the Infinite Veranda Staterooms. This fantastic new feature is an indoor balcony that takes the idea from an infinity pool. The balcony sits inside the room allowing the room to be bigger along with enlarging the bathroom. It is closed off by glass that lets you look out through a wall-sized window. But that is not all in which this incredible balcony allows you to delight. You can also enjoy the sea air by pushing a button that retracts the window half way and opens up your room to the entire seascape.
[caption id="attachment_9469" align="alignnone" width="760"]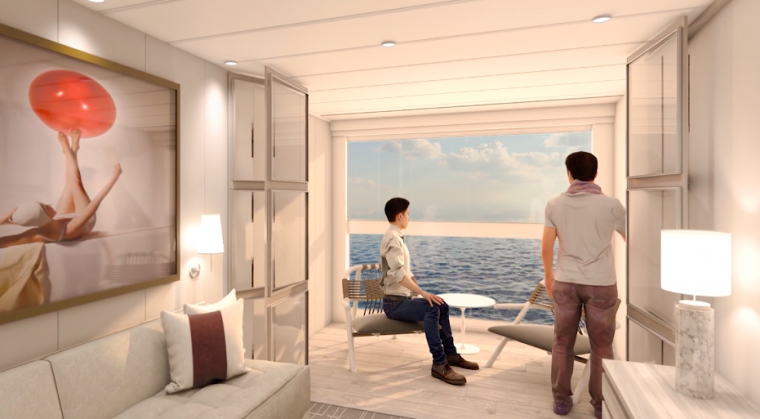 Celebrity Cruises[/caption]
[embed]https://vimeo.com/208018183\[/embed\]
For those with a little more money, there are upgraded and elaborate suites that take luxury even further. For those guests, there is a sanctuary called The Retreat. This stylish and peaceful "Retreat Sundeck, is a spacious outdoor lounge area that makes it easy to unplug with plush, stylish furniture, a full-sized pool, and a hot tub, as well as dedicated Pool Butlers." Truly, this is an exponential paradise. There is also a lounge that offers a space available 24/7 for beverages, gourmet bites, and live entertainment. It is: "Open for breakfast, lunch, and dinner, Luminae @ The Retreat is a boldly elegant restaurant with an interior as distinctive as the menus. The modern, eclectic cuisine served here is crafted by our Michelin-starred chef, and not available anywhere else on board."
[caption id="attachment_9471" align="alignnone" width="760"]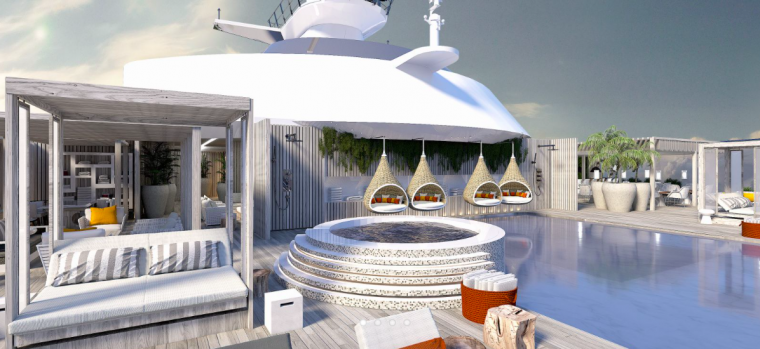 Celebrity Cruises[/caption]