Cheers! The Queen awaits your visit. London, one of the oldest cities in Western Civilization, was founded by the Romans in the first century A.D. Her streets teem with excitement as people not only travel about in their daily lives heading to work and back home again, but many consist of tourists and citizens indulging in their leisure time. A city of over 8 million people, it is considered to be the largest metropolis in Western Europe and rivals New York City. However, where it differs from New York is in its culture and even older historical sites and buildings. It is truly an ancient city of modern innovations.
[caption id="attachment_8099" align="aligncenter" width="400"]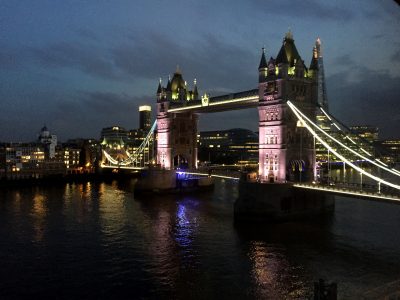 © Bryan Northcutt @Tower Bridge[/caption]
If you want an excellent place to visit, then London is a great location. The worst time to visit, although not bad, is the summer due to hot weather and high prices. The best time to pop in is the autumn or early spring because of lower prices, tourist crowds dwindling, and weather. Start looking for a hotel on websites like hotels.com to begin searching which hotels are offering lower prices in certain areas on certain dates. Of course, the more flexible you are, the better rates you will be able to find. British Airways is one of the primary airlines that will jet you into London, although having excellent service, they are not the cheapest option. An air carrier I have traveled and would highly recommend at a much lower price is Norwegian Air Lines. Most likely you will fly into the royal city from the U.S. on a Dreamliner. Traveling through the urban landscape from site to site, I recommend that you use Uber or Addison Lee as they are very convenient car services if you use the app on your phone and they are also reasonably priced.
[caption id="attachment_8102" align="aligncenter" width="300"]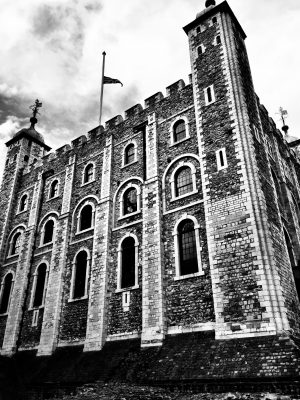 © Bryan Northcutt @The White Tower[/caption]
London has a variety of sites to see, both historical and modern. The Eye on the Thames is a recent addition to the city and will give you an excellent view from its peak. If you want to visit Buckingham Palace, you will need to check their website to make sure they are not closed to tourists when you are visiting. However, there are so many other places to visit like the Tower of London which holds the armory with medieval to modern weapons and armor as well as the Crown Jewels. In this short article, I just cannot address all of the places there are to visit. Make sure, though, to stop by a pub and enjoy the local culture and a bite to eat.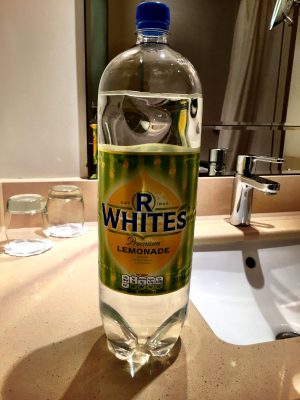 A few recommended places to eat- The first is a modern take on the pub which has great food and drink at a low price with gluten-free options, this chain of pubs is called JD Wetherspoon. It might be under another name, but you can find the various locations at jdwetherspoon.com. They have a very relaxed atmosphere with plenty of seating, ideal for the tourist who just wants to find some food. Indeed, you will want to visit other pubs as well to get a feel for London. There is also a soda that I highly recommend labeled "R.White's Lemonade" that you can only get in the UK. If you happen to be staying by the Tower Bridge, you can visit a restaurant, pizzeria, and pub at the Dicken's Inn. A warehouse built in the 1820's, it was transformed into an "inn" by the great grandson of Charles Dickens. Another UK specialty restaurant is the Gourmet Burger Kitchen which is a chain that serves some of the best milkshakes. I recommend their Honeycomb shake and your making a visit to London.
[caption id="attachment_8100" align="aligncenter" width="400"]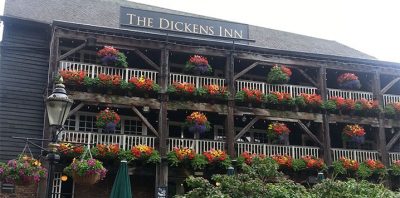 via The Dickens Inn[/caption]