Guten Tag! In the land of fairy tales, within the southern region of Germany is the city of Munich. This Bavarian capital is an ideal base for touring the region of Bavaria. Established by a Benedictine order of monks Munich or "Muenchen" in German means "by the monks." It has a population of around 1.5 million people and is steeped in Medieval architecture. Known for its beer and Oktoberfest, it boasts one of the world's oldest brewing halls- Hofbrauhaus. Inside the beer hall German folk music is played live by their alpine dressed band. Their beer is served in huge glass mugs along with enormous pretzels. They also serve a variety of German food served by uniquely clad waitresses.
[caption id="attachment_8965" align="aligncenter" width="760"]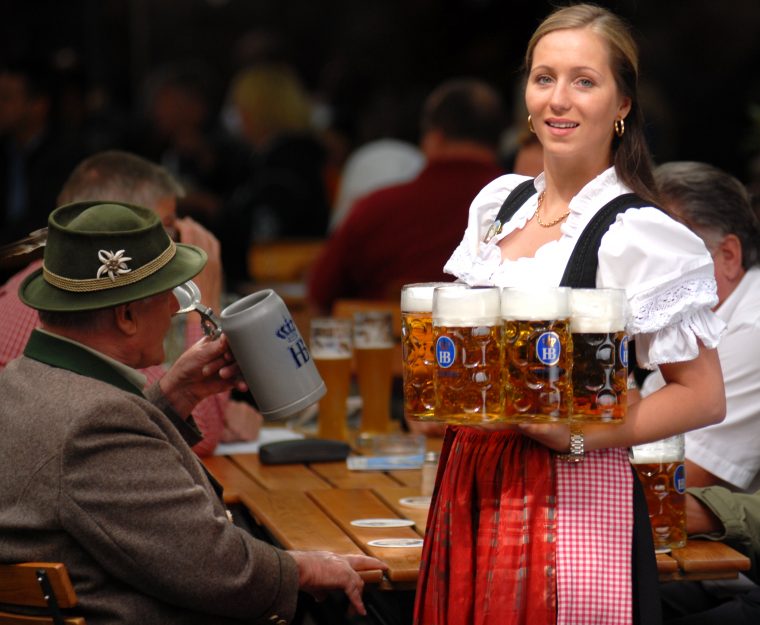 via Hofbrauhaus[/caption]
If you would like to see the surrounding area, then two sites that you cannot miss are the Neuschwanstein Castle and the Medieval village Rothenburg ob der Tauber. The Neuschwanstein Castle is the model for the castle at Disneyland and it is breathtaking as it towers over its natural surroundings. Built in the late nineteenth century, this is not a medieval castle, but you won't care when you visit it. Down the way a bit is the town of Rothenburg ob der Tauber which means "Red fortress above the Tauber." Not only is the town a relic from the Middle Ages, but it is filled with shops and restaurants that will allow you to take in the culture and return home with a piece of it. A few things you will find in these shops are elaborate wood carved cuckoo clocks and decorated steins, but there is so much more to do and see as you walk down its archaic cobbled streets. There are many other Medieval towns in the Bavarian region so begin searching the internet and plan before you go.
[caption id="attachment_8966" align="aligncenter" width="570"]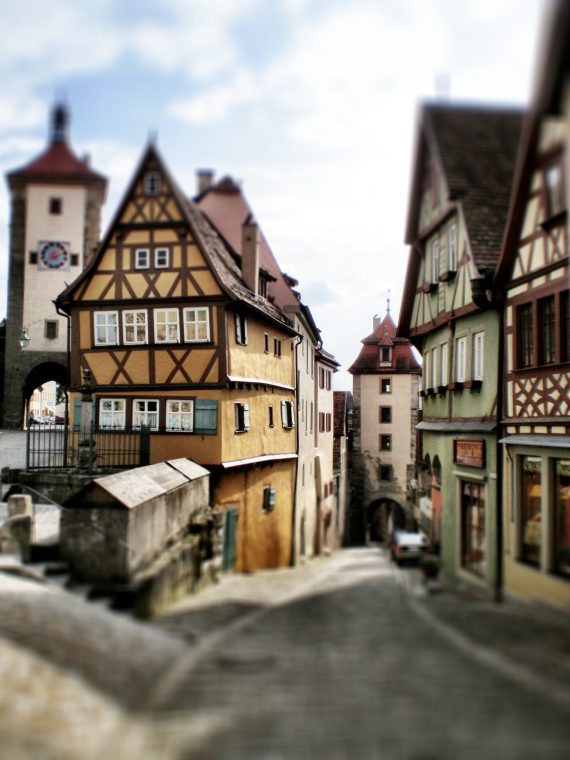 © Bryan Northcutt[/caption]
While in Munich remember to visit their many museums and theaters as it has a history of hosting top artists including Mozart and Wagner. Hotels are plentiful in the city, so visit a website and plan for the perfect time that you would like to visit. Make sure to check out their car rentals. You might end up with a Volkswagen, BMW, or Mercedes and you can speed down the Autobahn while making great time. You might also want to pick up a Rosetta Stone and learn a little German before you take off, but it's not necessary as English is fairly common and displayed on signs being familiar amongst the people. This fluency likely originates from the post World War II management of West Germany and the current bombardment and popularity of American Television shows. Auf Wiedersehen!