One of the most memorable stars from my childhood and beyond was none other than Carrie Fisher. Her incredible personality and charming look shown as a light in the dark sci-fi trilogy of Star Wars. Whether it was her flirty relationship as Princess Leia with Han Solo, the slightly disturbing flirtation with her brother Luke, or her take charge and witty attitude as she helped fight the evil empire, without Fisher Star Wars may not have been the illustrious success that it has come to be. This triumph includes the recent Rogue One movie that was just released and essentially centers around Leia's recorded message that she leaves with R2-D2 for Obi-Wan Kenobi. Though these works are what she is most popular for, they do not alone do her justice as an actress and performer.
[caption id="attachment_7603" align="aligncenter" width="400"]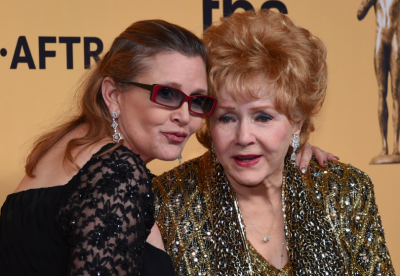 via IBT[/caption]
[caption id="attachment_7604" align="aligncenter" width="383"]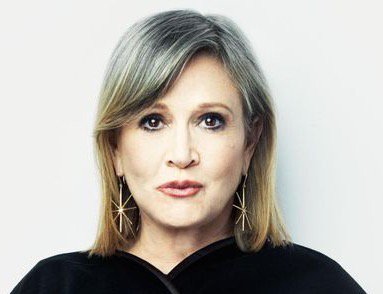 Via Debbie Reynolds[/caption]
Carrie Fisher started in a TV Movie in 1969 when she was thirteen years old with her mother, Debbie Reynolds. Her father was Eddie Fisher, and among her siblings, she had a sister Jolie Fisher who has an extensive television career herself. She also has one daughter named Billie Lourd (1992). After her TV appearance, she then starred with Warren Beatty and Goldie Hawn in Shampoo (1975) and followed in A New Hope. Between Star Wars episodes she played parts in TV Movies, TV Shows, and had smaller roles in other films. After Return of the Jedi, she co-starred with Tom Hanks in the 80's dark comedy The Burbs and appeared in the classic When Harry Met Sally. Fisher also provided a voice in the 1990's for a caller on the hit sitcom Frasier as Phyllis who has a problem with insomnia while Dr. Crane falls asleep as she is talking. Carrie continued to do a considerable amount of television work until her reappearance as Leia in The Force Awakens. The deceased actress will most likely appear in the future film of Star Wars: Episode VIII in December of 2017 as filming has already finished. So, Ms. Fisher, we will miss you. May the heavens be your next adventure regardless in which galaxy you may reside.