Are you tired of Streaming services or do you want more? Are you weary of Netflix? Well, maybe you haven't been shopping around enough. There are many options to choose from, and there is about to be one more. Do you find Amazon insulting and Hulu more of a rerun station? Maybe your sick of Netflix's original programming with little to offer your television and movie high-class tastes. What about CBS? Their service provides you with all kinds of shows…on CBS. Ok, but what about NBC? Where you go for those NBC favorites? For most of them you should go to Hulu, but now Comcast wants to start a competitive service that features NBC content.
While CBS claims to possess one and a half million subscribers and HBO more than two million fans, Comcast wants to get in on the game also. But its biggest competitor might be Hulu. Why subscribe to Comcast when you can get most of the same programming plus shows and movies from other stations. I guess we will have to wait and find out what they intend to do about this redundancy that could flatten their subscription potential. It will have to wait awhile though. Because of the cable regulations, it may be until September of 2018 before we find out all that they can offer their customers. Sports, however, might be one thing that they can add to the pot to make it juicier. NBCUniversal air a lot of sports and this could add a little something along with their Universal movies. They are still trying to figure out all the details, but they could also include Bravo, SyFy, and USA shows as well, but…yawn…so does Hulu.
[caption id="attachment_10163" align="alignnone" width="250"]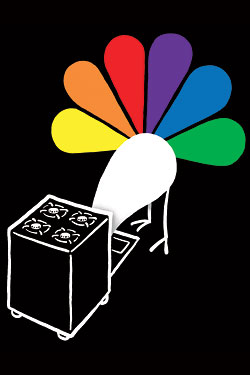 via New York Magazine[/caption]
So unless they are only going to charge 1.99 a month for the service, they had better do some serious innovating to make their service stand up to Netflix, Hulu, HBO and even CBS. We will see in about a year or more and they better hope that their competitors don't innovate even further. Maybe they will release Hologram streaming…Maybe?