The history of Las Vegas is long and complicated. It's pre-American existence goes back thousands of years when Native Americans visited in their migratory journeys. It is also believed that the Paiutes resided in the area in 700 A.D. due to archeological findings such as baskets, petroglyphs, and pictographs. However, it was around 1829 that a Mexican trade caravan visited and named it Las Vegas which means "The Meadows" as it was full of grassy meadows and contained springs where travelers could resupply with water. In 1844, John C. Fremont traveled to the area and established a fort in the area. In the early 20th century it grew into a town, and in 1930 President Herbert Hoover signed the bill that would produce the Boulder (later called Hoover) Dam. With many construction workers in the Las Vegas area, mafia crime lords decided they would make money by establishing casinos and showgirl theaters to entertain them. This would emerge into the more modern Las Vegas that we recognize when in 1946 Bugsy Siegel decided to use it as a money laundering scheme by building The Flamingo. This continued unabated in the 1950's with other organized crime syndicates joining in the scheme and building the casinos the Sahara, the Sands, the Showboat, the Tropicana, and several others. It was in the 1990's that Vegas began to emerge into a resort town that left behind its shadowy origins.
[caption id="attachment_10985" align="alignnone" width="600"]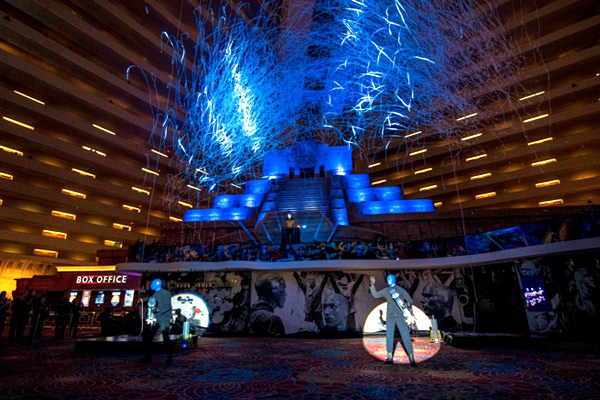 LUXOR[/caption]
When in Vegas where should you stay? There are many great options but let me suggest a unique location where one can experience the distinct feel of the New Vegas while still enjoying all of the other features that this resort town has to offer. No, not the Venetian (which is amazing), but the Luxor. This pyramid shaped resort hotel, which was built in 1993, offers everything one could want in a Las Vegas hotel while positioning itself in a prime location. It is surrounded by Mandalay Bay and Excalibur, which offers its guest many fun things to do, but also is just a short jaunt away from New York, New York. The floors of its rooms even are pyramid shaped so that the elevators travel in diagonal directions and one can look over their front hallway (outside of the room) onto the intriguing entertainment floor beneath them. The hotel features a Sphinx, an obelisk, a sky beam that shines brightly at night, four pools, a spa, several restaurants, a buffet, a cafe, a "cheaper" food court that features fast food options, several Las Vegas shows, and spacious rooms that anyone can enjoy. Some of its prime talents include Carrot Top, the Blue Man Group, and Criss Angel. There is so much to do in this hotel and its neighbors that you will not even have to think about gambling.
[caption id="attachment_10984" align="alignnone" width="338"]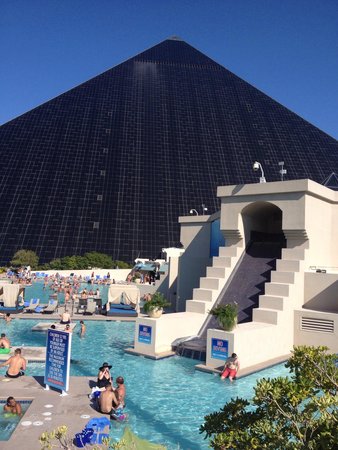 via Trip Advisor[/caption]