Finally, something that everyone should put their support behind- clean versions of popular movies. These are not newly edited movies but movies that have already been edited for airplanes and television. They allow your child or pre-teen to be able to enjoy all of the movie without having to worry if they will hear or see something beyond their years. In fact, sometimes there are movies that I find hilarious, but I wish they were not quite that raunchy or gross. Sony is doing just that across certain digital outlets by offering the clean version along with the original version. However, despite the potential benefit for families several directors and producers have come out against this release. They believe that their artistic integrity outweighs the potential benefit to the entertainment industry as a whole.
Men like Seth Rogen and Judd Apatow who are famous for raunchy movies have stepped up and declared their disdain for Sony's new policy. And in some cases, they might be right. If you have a film that is as full of adult language and other acts that are offensive to families, then there might only be ten minutes left of the movie or some very odd sequences left over after editing. However, if they have already shown these versions on television or airplanes, then what is the harm? Isn't this a principle of the entertainment industry- to be able to entertain everyone? Wouldn't it be great to have your twelve or thirteen year old to laugh at Will Ferrell and John C. Reilly walk into an interview in their tuxedo's without having to watch Will Ferrell lay his scrotum on Reilly's drum set? Or wouldn't it be great to allow them to watch Matt Damon take on the elites in Elysium without having to subject them to 103 uses of the "F" word? Or even better yet, allowing your seven or eight year old watch the original Ghostbusters without all of the adult language and violence?
[caption id="attachment_11315" align="aligncenter" width="750"]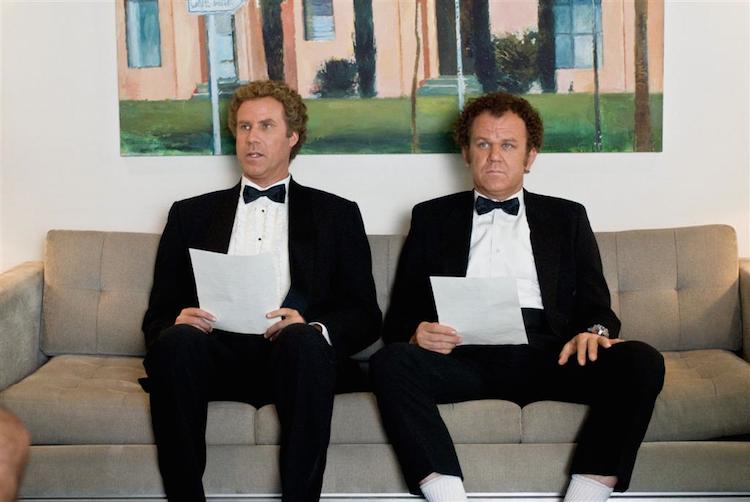 Sony Pictures[/caption]
The complaints seem minimal in light of the fact that the individual does have to purchase the original version in order to get the clean version, which would clear up any doubts about artistic integrity on the director's behalf. If you are interested, they are released on Vudu and Fandango Now. ITunes is rumored to offer them, but I have yet to verify this. Here are some of the movies that are available in the cleaned up version with Adam Sandler and Spider man tying for first place in quantity.
Spider Man
Spider Man 2
Spider Man 3
The Amazing Spider-Man
The Amazing Spider-Man 2
Hancock
Ghostbusters
Ghostbusters 2
Goosebumps
Grown ups
Grown ups 2
Fifty First Dates
Big Daddy
Pixels
Easy A
Talladega Nights
Step Brothers
Money Ball
Elysium
White House Down
Battle of the Year
Inferno
Captain Phillips
Crouching Tiger, Hidden Dragon
So pick your favorite, set your family down and enjoy one of these great movies with everyone!