We often hear of different awards for various mediums of art. The Grammys commemorate music, the Emmys praise television, and the Academy Awards celebrate film. But what are these Golden Globe Awards and what gives them the power to award anyone with anything? Could I not just start handing out awards to actors and directors, thereby becoming famous myself and host an extravagant annual production on television? Not likely! These Golden Globe Awards are presented by the Hollywood Foreign Press Association. Ok, but that just poses more questions. What is the Hollywood Foreign Press Association? It sounds kind of dull!
The Hollywood Foreign Press Association was founded in 1943 by a group of journalists. They were led by the correspondent for Britain's Daily Mail and devised the motto "Unity Without Discrimination of Religion or Race." It struggled in the beginning as the movie industry had not recognized the potential importance of foreign markets. It consists of 90 members who every year interview more than four hundred actors, writers, producers, and directors while viewing more than three hundred films. Their goals are to "establish favorable relations and cultural ties between foreign countries and the United States of America by the dissemination of information concerning the American Culture and traditions as depicted in motion pictures and television…" They also strive to recognize achievements in both film and television and contribute to various humanitarian efforts.
The HFPA will celebrate their 74th Annual Golden Globe Awards in January of 2017. Their Golden Globe awards have been numerous, and it has taken years for it to gain any prestige. Now it is one of the most watched award shows on television and boasts many different celebrity hosts. In the last several years Ricky Gervais, Tina Fey, and Amy Poehler have hosted the show multiple times, and in 2017 the host will be The Tonight Show host and SNL Alumnus, Jimmy Fallon.
Best Actress award nominees in a motion picture drama will be-
Amy Adams
Jessica Chastain
Isabelle Huppert
Ruth Negga
Natalie Portman
Best Actor award nominees in a motion picture drama will be-
Casey Affleck
Joel Edger
Andrew Garfield
Viggo Mortensen
Denzel Washington
Best Actress award nominees in a motion picture comedy or musical will be-
Annette Bening
Lily Collins
Hailee Steinfeld
Emma Stone
Meryl Streep
Best Actor award nominees in a motion picture comedy or musical will be-
Ryan Reynolds
Jonah Hill
Hugh Grant
Ryan Gosling
Colin Farrell
Best Motion Picture Drama award nominees will be-
Hell Or High Water
Lion
Manchester By The Sea
Moonlight
Hacksaw Ridge
Best Motion Picture Musical or Comedy award nominees will be-
20th Century Women
Deadpool
Florence Foster Jenkins
La La Land
Sing Street
The ceremony will commence on January 8, 2017, and stream its pre-show live on Twitter 3-5 pm PT. See you on the red carpet!
[caption id="attachment_7463" align="alignnone" width="400"]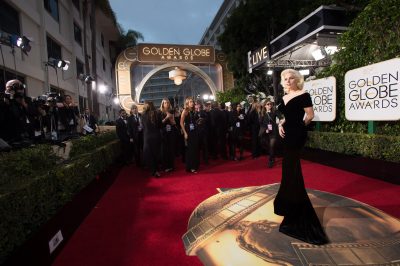 Lady Gaga attends the 73rd Golden Globe Awards at the Beverly Hilton in Beverly Hills, CA on Sunday, January 10, 2016. HFPA[/caption]