How can we discover who the greatest mind is of the last 200 years? Elementary my dear Watson. Sir Arthur Ignatius Conan Doyle was born in Edinburgh, Scotland on May 22, 1859. When he was seventeen, he attended the University of Edinburgh Medical School to study for a professional career in medicine. He also studied practical botany at the Royal Botanic Garden, which was also situated in Edinburgh. Arthur Conan Doyle graduated in 1881 with his Bachelor of Medicine and Master of Surgery. During this period, he began to embark on his literary career. In September of the year 1879, he published his first fictional work, "The Mystery of Sasassa Valley," a story set in South Africa.
[caption id="attachment_8086" align="aligncenter" width="300"]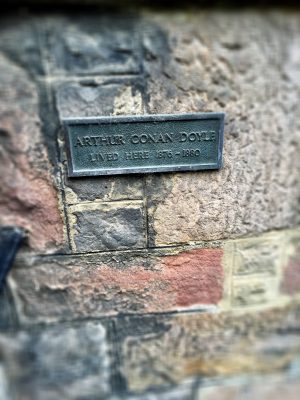 © Bryan Northcutt @Edinburgh University[/caption]
Arthur Doyle also then published his first academic article, titled "Gelsemium as a Poison," which the Daily Telegraph, a highly esteemed newspaper, regarded as being potentially useful in a 21st-century alleged murder investigation. In June 1882, Arthur Doyle set up an independent medical practice in Southsea, Portsmouth. His practice was not successful initially, so while waiting for patients, Arthur again began to write fiction. In 1867, Arthur Doyle published his first work featuring the famous Sherlock Holmes and his partner Dr. Watson. "A Study in Scarlet" appeared in the Beeton`s Christmas Annual and instantly received good reviews from the public. Sherlock Holmes, Arthur later penning his autobiography in 1924, records that he was partially modeled off of his former university teacher Joseph Bell. His skills in deduction, inference, and observation were amplified for the basis of Doyle`s scientific detective who solved cases by his own merits and not through the folly of the criminal.
[caption id="attachment_8089" align="aligncenter" width="244"]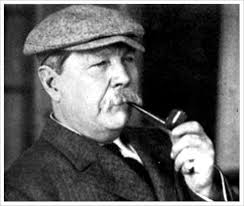 via arthurconandoyle.com[/caption]
During the next few years, Arthur Doyle would write twenty-two short stories featuring Sherlock Holmes. Though many believed that Sherlock Holmes was Arthur Doyle`s greatest creation, his feelings toward the detective were ambivalent. So when Doyle grew tired of writing about Sherlock Holmes in 1893, he had Sherlock Holmes and the criminal mastermind, Professor Moriarty, who was considered to be Holmes' greatest adversary, plunge to their deaths together down Reichenbach Falls in the story "The Final Problem." In spite of his demise, the public rallied together to demand the return of Sherlock Holmes. Thus in 1901, Arthur Doyle published the previously unpublished novel "The Hound of Baskerville" and then later in 1903 Arthur Doyle ingeniously brought Sherlock Holmes back to life in the collection of stories collectively known as "The Return of Sherlock Holmes." "The Valley of Fear" was then published in 1914. This was Arthur Doyle`s last Sherlock Holmes novel. In 1917, the collection of short stories known as "His Last Bow" were published in the Strand Magazine. "The Case-Book of Sherlock Holmes" was written in 1927 and contains the last twelve short stories Arthur Doyle would write that would feature his renowned detective who had the astounding observation and deducting skills. Sir Arthur Conan Doyle would die at the age 71 on July 11, 1930, from a heart attack. He was buried in New Forest Hampshire in the Minstead churchyard.