Want a universal wireless headset with microphone which works with PlayStation, Xbox and mobile devices?
It's obvious that LucidSound tried to deliver a product that offered excellent sound without compromising on features a lot of users consider important. Did they succeed or fall short? Let's find out.
LucidSound LS30 Notable Features
Sound. 50 mm speakers with neodymium magnets deliver potent audio with booming bass. While not exactly true surround sound, it's probably close enough to suit most players. Sound is the number one priority for headsets, and LucidSound nails it.
Comfort. These headphones were designed for every head size, making sure no one will be uncomfortable wearing them for long periods of time. They are just tight enough to keep the ear cups in place, have quilted head rail padding and memory foam cushions that mold to your ears. These are some of the most comfortable headphones of all time, so they win this category, as well.
Quality Microphone. A good mic isn't usually a deal breaker, but LucidSound went way above and beyond on this feature. There is a perfectly adequate integrated mic on this headset that no one can complain about. Additionally, there is also a flexible boom mike that makes you sound like you are sitting right next to the people you are talking to. Even better, it allows you to hear yourself talk, so you won't be tempted to shout.
The boom mic is removable, but you will rarely want to be without it.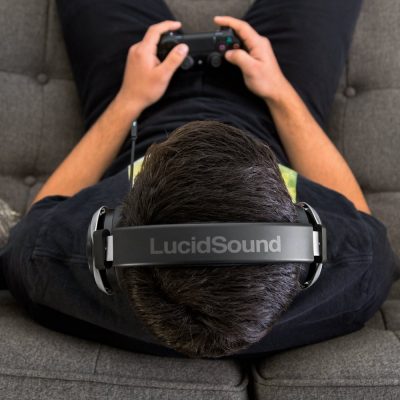 Versatility. This headset can be used on multiple platforms and on mobile devices. So you can switch back and forth between games and your phone, tablet or computer. This is a huge convenience for the users.
Wireless. More and more people are getting used to the freedom of being able to wander up to 30 feet away from whatever they're listening to. Particularly since this headset can be used with mobile devices, this is a pretty popular feature. The headset can be used wirelessly with the PS3 and PS4, Xbox One and 360, and mobile devices. However, a 3.5 mm cable is included for when the battery dies. Plus, you can use the cable to connect to anything else except for the devices mentioned above.
Battery Life. Since the battery is good for around 15 hours on a full charge, it will probably last long enough for most gaming sessions.
Design. Most users probably won't even care what their headset looks like while gaming. But these are sleek and sophisticated enough to proudly wear out and about in public.
All of these features are impressive enough on its own, but there is one last feature that kicks this headset several notches above anything else.
Separate Volume Controls. There is a large, yet unobtrusive volume wheel on each earpiece. One is for game volume, the other for chat. In essence, lowering annoying players no longer means ruining your playing enjoyment.
What's not to like?
There's nothing left! This headset looks, sounds and feels great, has wireless capabilities on multiple platforms with long battery life, as well as feature innovative separate volume controls that are a real game changer.
It's difficult to justify any conclusion other than that the LucidSound LS30 is, indeed, THE best gaming headset available today.
[x_button shape="rounded" size="regular" float="none" href="http://amzn.to/29w3aXS" target="blank" info="none" info_place="top" info_trigger="hover"]Get your LucidSound LS30 today![/x_button]