Earlier today I posted about Mayor Anthony Silva of Stockton being arrested for allegedly secretly taping underage individuals while playing strip poker in his bedroom at a summer camp. Well now a mayor in North Virginia has been arrested for reportedly dishing out meth in exchange for sex with men.
Richard "Scott" Silverthrone (I'm dying over his name) is the "comeback mayor" of Fairfax, North Virginia. I have no idea why he thinks he is in some sappy movie about a down and out ex-politician who turns his life around by building a non-profit school with his bare hands, makes the city parking free for everyone, and wipes the city streets of all crime only to be rewarded the title of comeback mayor of the decade but Ol' Scottie is still trying to figure his life out.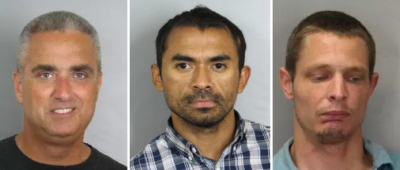 Not only was Silverthrone a mayor but he was also a substitute teacher (why are these freaks always around kids??) at the Fairfax County Public Schools. On Thursday he was caught by undercover cop trying to participate in a group sexual encounter in exchange for some meth, nbd. Authorities first began investigating when someone alerted them that Silverthrone was on an online dating website for men and was using meth in exchange for sex. On Thursday, cops decided to go undercover and set up a meeting with at a hotel, this led to his arrest. Two others involved in the meth distribution, Juan Jose Fernandez and Caustin Lee McLaughlin, were arrested as well.
Today does not seem like a very good day for mayors. I can picture it now, a handful of mayors scrambling around trying to make sure that their dirty laundry doesn't get aired on this Mayoral Judgement Day.