Samsung Galaxy Note 7: Combining Security, Efficiency, and Entertainment
Defying expectations for a Note 6, Samsung jumps ahead and unveils their new Note 7 device. Updates from Samsung have become synonymous with top-of-the-line innovation, as the company spearheaded the movement toward large-screen smartphones. Some new features included on the Galaxy Note 7 are: a water resistant body and S Pen, a new iris scanning feature for maximum security, and HDR video streaming capabilities.
Undoubtedly, the first thing you're going to notice about the Galaxy Note 7 is its sleek design. The device was certainly engineered with its user's experience in mind. It features a comfortable grip and a large yet durable screen, and its cutting-edge camera allows users to take exceptional photographs.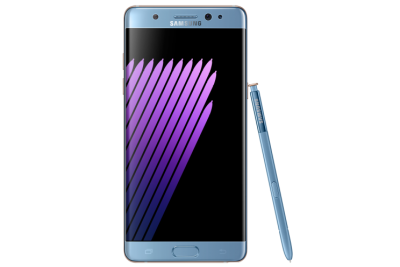 Besides its lustrous engineering, the Galaxy Note 7 also comes with a host of remarkable features. Here's a breakdown of some of the most noteworthy:
Security Upgrade
Now more than ever smartphones are becoming bountiful sources of personal information, and Samsung recognizes the importance of keeping that information secure. With the Galaxy Note 7, not only does your phone include the Samsung Knox security platform, it is also protected with a fingerprint scanner, an iris scanner, and the availability of a Secure Folder. If you've gotten used to a simple 4 digit code keeping your information locked, this is certainly quite an upgrade!
S Pen: Your New Favorite Writing Tool
The Galaxy Note 7 S Pen is the ultimate tool for productivity and efficiency. Its 0.7mm tip gives it the feeling of a real pen, and its water resistance means that users can continue using their pen and smartphone, even if their screen gets wet. One unique feature is that the S Pen allows users to jot down memos onto their phones even when their screen is in lock mode, saving you time when you need to note something down in a hurry. With its Magnify and Translate functionality features, hovering the pen allows users to zoom and translate languages in seconds. If organization is important to you, you'll enjoy Samsung Notes, which keeps memos, hand-drawn pictures, and notes all in one place.
Advanced Entertainment
The Note 7 is a top-notch phone for users trying to maximize their gaming and media viewing capabilities. When viewing videos on your Galaxy Note 7, you're sure to notice an upgrade in your entertainment experience. It allows for streaming HDR videos, meaning users will be able to see richer colors, giving videos a fuller, more aesthetic quality. The device also gives users access to Game Pack through Google Play.
Be on the lookout for new accessories to accompany your Galaxy Note 7. These include the S View Standing Cover, which props up the phone at a 60-degree angle. Another accessory to look out for is the IP68 water resistant Backpack, which allows for charging your phone while you're on the go. The Note 7 will be available in three colors: black, silver and blue coral. The device officially goes on sale at retailers beginning on August 19th but will be available for pre-order starting August 3rd.