Would you like to unlock the front door from your car, when it's raining?
If you live in a city, would you feel safer being able to unlock your door from up to 30 feet away instead of fumbling with your key as strangers pass you by? Well, help is at hand, for you and many others.
Since an August Smart Lock works with most regular deadbolts, you can still use it with your normal key. Depending on the make and model of your deadbolt, you may not have to even change it. In fact, the smart lock even looks the same as your old lock from the outside, because your new lock is installed on the inside.
So why should you want one?
Because the unit is capable of doing the most amazing things!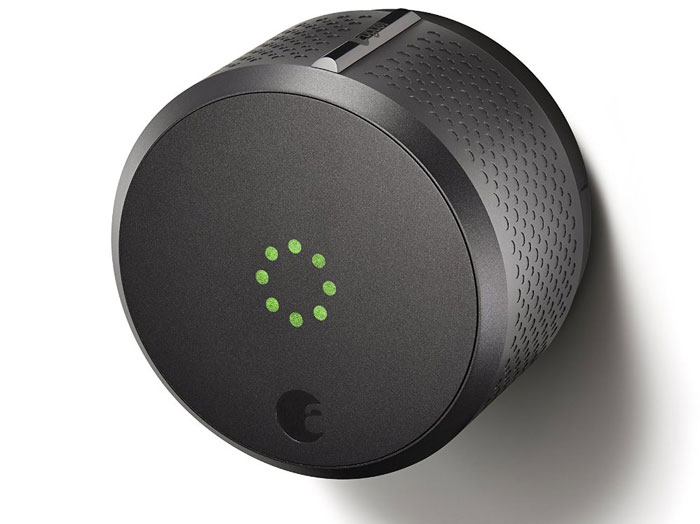 Your August Smart Lock Can:
Unlock your door from your phone. The basic lock, which is available for about $229, is a Low Energy Bluetooth smart lock. You simply download an app which will allow you to unlock it with a smartphone, from up to around 30 feet away.
Have your door lock/unlock automatically. Using your phone's location services, you can program a geo-fencing feature to unlock the door when you are miles away, if you like. And you can set it to automatically re-lock your door 30 seconds to 5 minutes after you've unlocked it. Never worry about forgetting to lock your door again!
Give temporary or permanent "virtual" keys to family, friends, workers & more. All they need is a smartphone and the app. You give them a "key" and determine exactly when it will work. And here's the kicker, your app will keep a log of everyone who comes and goes, so you will always be able to tell who is there and when!
And wait, that's not all!
If you add just one accessory (either the $79 Connect accessory or $199 August Doorbell Cam), you will have Wi-Fi capability that will allow you to unlock your door from anywhere in the world and work with networks such as Nest and Apple HomeKit.
For instance, you could program a Nest Learning Thermostat to switch to Home or Away, depending on whether you have locked or unlocked your door. You could only use Siri for HomeKit when you're home, though. And the whole HomeKit setup is not very easy.
Why We Love It
SO useful and convenient, unlocks door from up to 30 feet away
Can automatically lock and unlock door
Can create temporary or permanent keys for family/friends/workers
Even DIY newbies will find it easy to install, because it is battery operated, so no wires
Required 4 AA batteries are included and the app will tell you when to change them
Works with many existing locks. You should check company's website for most up to date list
Looks good
What We Aren't Wild About
Doesn't work with every deadbolt
Getting the lock to work with HomeKit is clunky, Siri only local
Conclusion
The August Smart Lock is wonderful, even without the added Wi-Fi capabilities. We would strongly recommend it to all iOS and Android smartphone owners.
[x_button shape="rounded" size="regular" float="none" title="http://amzn.to/29pQtOF" target="blank" info="none" info_place="top" info_trigger="hover"]Get your August Smart Lock today[/x_button]